Joel Edgerton Has Big Plans For Uncle Owen In Star Wars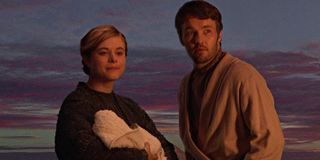 Joel Edgerton has forged out a pretty impressive Hollywood career for himself. The Australian thespian has appeared in the likes of Animal Kingdom, Warrior, Zero Dark Thirty and The Great Gatsby to critical acclaim. But for Star Wars fans he will always be thought of as Attack of the Clones and Revenge of the Sith's Owen Lars. And now turns out that Edgerton has pretty big plans if Uncle Owen is included in a possible spin-off Obi-Wan movie... but only if he can be more than a "nerdy moisture farmer."
Edgerton explained to ComingSoon.net that the Owen in Episode IV had "been through some shit," and it became clear that the idea of an Obi-Wan solo film might find room for Edgerton's character. As the conversation continued, the actor became more enthused, and he even declared:
Despite the brevity of his role, Joel Edgerton was a key figure in the series as he shared the final shot of the prequels with his on-screen wife, Beru Lars, played by Bonnie Piesse. The pair held on to baby Luke Skywalker after Ewan McGregor's Obi-Wan Kenobi had delivered him to his new step-family, which is where he leaves him until the time is right to fight against the Empire. You can check out the final moments below:
Of course, both Owen and Beru are killed at the start of A New Hope by stormtroopers, but Edgerton has now revealed that he thinks there is more to explore with his character. Edgerton made the comments during a chat to promote his police drama, Felony, and after being informed that McGregor would likely play Obi-Wan in a film that covered the period between Revenge of the Sith and A New Hope, Edgerton declared, "Well then I definitely have to be there, right? Or they're gonna get someone else? Am I too old for that now?"
He also noted that even though Obi-Wan and Owen seem to be fine with each other at the end of the third installment to the series, by the beginning of the fourth there has clearly been a little drama between the duo. Owen even says of Obi-Wan, "That wizard's just a crazy old man."
Of course, Joel Edgerton's slate is pretty full right now, as he has only just finished work on Ridley Scott's upcoming biblical epic, Exodus: Gods and Kings, opposite Christian Bale. But Star Wars is still Star Wars. And if the offer to play Owen comes around again he'll surely take it. Especially since he has such great ideas for the part.
Your Daily Blend of Entertainment News