Joely Richardson Dons Queen Elizabeth's Many Wigs In Anonymous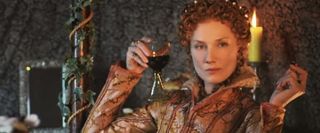 Queen Elizabeth I, the legendary ruler of England, has been the star of any number of films set in the era, portrayed by the likes of Cate Blanchett, Judi Dench, Bette Davis and Sarah Bernhardt. In Anonymous, the new drama in theaters this Friday, Elizabeth takes a supporting role in the story of the Earl of Oxford Edward de Vere, the nobleman who, as this movie theorizes, is the real author behind Shakespeare's famous works. Jamie Campbell Bower plays Oxford as a teenager, when he began an affair with the twentysomething Elizabeth, played by Joely Richardson; later in the film, when Rhys Ifans steps into the central role, Elizabeth has aged as well, played by Richardson's own real-life mother, Vanessa Redgrave.
Anonymous seems on the surface to be about Shakespeare, proving the man from Stratford-- played by Rafe Spall as a power-hungry buffoon-- was not in fact the author of the works. But it's surprisingly concerned with the politics of the time, with one of the many attempts to overthrow Elizabeth's rule and the scheming of her many advisers-- specifically her advisor William Cecil-- to take power for themselves. As a nobleman Edward de Vere had information about all of this, and as one of Elizabeth's lovers he also has a particularly vested interest in seeing the monarchy stand strong.
I talked to Richardson about her role in the film, working hard to let her naturally similarities to her mother link the character, playing one of the most iconic figures of British history, and what she thinks of the "Oxfordian" theory behind the film, that de Vere was in fact that author of Shakespeare's works. You can check out the full video interview below, and see Anonymous in theaters this weekend.
Your Daily Blend of Entertainment News
Staff Writer at CinemaBlend