John C. Reilly Runs A Freak Show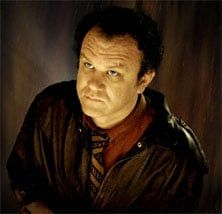 I love John C. Reilly. Drama, comedy, music, dancing, clown makeup, frog rain, porn star, the guy can literally handle anything. Now he's adding "freak show" to his repertoire.
Variety says Reilly is set to star in a movie called Cirque du Freak, along with Josh Hutcherson and Chris Kelly. The movie is about two best friends (Hutcherson and Kelly) who encounter a vampire and a deadly spider while visiting an illegal freak show. They're forced to make tough choices, and end up as vampire servants themselves.
Reilly, much as I'd love to see him in the costume, will not play the deadly spider. He will however the vampire. He plays Larten Crepsley, a centuries-old vampire and head of the freak show.
The plot sounds like a genius kind of weirdo lunacy, and with Reilly on board it has instant credibility. It doesn't hurt to have it written and directed by Paul Weitz either. Weitz directed the excellent films About a Boy and In Good Company, and since I'm in a forgiving mood we won't mention American Dreamz. Whoops, I just did. Hey, John C. Reilly's next movie looks good. Keep an eye out for Walk Hard this fall, where he'll rock out as a Johnny Cash stand-in.
Your Daily Blend of Entertainment News
Thank you for signing up to CinemaBlend. You will receive a verification email shortly.
There was a problem. Please refresh the page and try again.