John Carpenter's Brutally Cynical Reaction To The Rock's Big Trouble Remake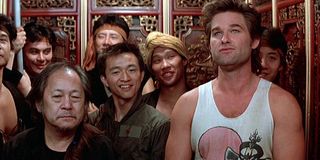 When news recently surfaced that the 1986 cult classic, Big Trouble in Little China would soon be getting the reboot treatment with Dwayne "The Rock" Johnson, it seemed a curious project choice. However, one would have thought it would be especially surprising for the original film's director, John Carpenter. However, his response is filled with devastating dispassion.
In an interview with The Wall Street Journal the highly-held horror helmer, John Carpenter, revealed that he has yet to speak with the remake's prospective star in Dwayne Johnson, noting that it's still early in the process. However, pressed on whether he would consider joining the project, he seemed rather dismissive. According to Carpenter:
While Carpenter's renegade response seems to display a shockingly passivity, his claim that the process is still early also happens to be echoed in cautious comments made by Dwayne Johnson regarding how the project could take shape. While Johnson has commented on his intent to get Carpenter involved with the project out of respect, his apparent enthusiasm is also mitigated by the realistic possibility that the script could fall flat. As Johnson told EW earlier this week:
Of course, the news that Johnson was circling the Big Trouble in Little China remake was met with a vocal opposition who sees yet another beloved 1980's classic being regurgitated in a modern movie scene that's continually seeing originality fade. Yet, when it comes to Carpenter, it's difficult to discern his actual attitude towards this particular remake project. He's already seen a number of his classic works like Halloween, The Thing and Assault on Precinct 13 get the reboot treatment. On top of that, plans have been in the works for years to reboot Escape from New York; a project that Carpenter has, indeed, jumped on board, serving as executive producer.
Yet, for Carpenter, Big Trouble in Little China has always been one of the more vexing works on his resume. It stands today as a witty, revered and action-packed classic that brilliantly balanced its original approach to Chinese mysticism and martial arts action with a hilariously inept, but badass protagonist in Jack Burton, played by Kurt Russell. Yet, in the summer of 1986, overshadowed by the release of super-sequel, Aliens, Big Trouble was an abysmal failure at the box office, grossing only $11.1 million on its $20 million budget investment. Paradoxically, it stands both as one of Carpenter's biggest failures and most widely beloved works. That aspect might play a part in his apparent ambivalence towards the remake.
Regardless of one's feelings about the efforts to remake this beloved classic, it should, nevertheless, be interesting to see how the project takes shape; especially with Thor and X-Men: First Class screenwriters, Ashely Miller and Zack Stentz hacking away on the script. As someone who considers Big Trouble in Little China a sacred childhood favorite, I could do without the remake. Yet, there is something seductive about the idea of seeing the property finally get a chance to achieve a mainstream redemption of sorts for its original financial folly. Perhaps, Carpenter may come to that realization, even if he sees the film as a colossal career blemish.
Your Daily Blend of Entertainment News