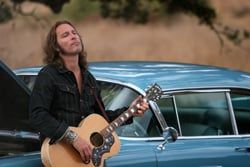 I never got into Sex and the City. Yeah, it's supposed to be good and all, but looking at Sarah Jessica Parker's face for 55 minutes each week has never sounded appealing. That's why the only thing John Corbett is to me is that dude who plays Indian music in Serendipity. Apparently he's a lot more than that to Sex and the City fans. But according to him, he's not going back to the city anytime soon.
Access Hollywood says John Corbett will not reprise his role in Sex and the City 2 after Sarah Jessica Parker fanned the flames of the rumors by neither denying nor confirming them. Corbett would have reprised his role as Aiden Shaw (whom I just found out through Google is also a famous male pornstar), Carrie Bradshaw's one-time lover. Rumor had it that he's figure prominently in the new film.
While his presence would have surely put a few extra butts in the seats, the TV show and its movie adaptation have fans that are sometimes as rabid as Twilight tweens. Considering the movie nearly tripled its budget domestically, Sarah Jessica Parker doesn't seem like she's going to need a former lover to ensure that she keeps getting a fatty paycheck.
Your Daily Blend of Entertainment News