John Goodman Joins Mark Wahlberg For The Gambler Remake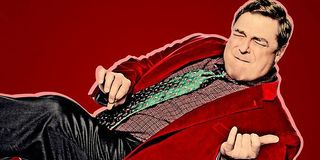 Adding John Goodman to any movie is a way to better pique our interest. So a tip of the hat to Paramount, which has added the consummate character actor who recently stole scenes in the Coen Brothers' Inside Llewyn Davis to their growing ensemble for the remake of The Gambler.
Based on the 1974 crime drama that starred James Caan, Paul Sorvino and Lauren Hutton, The Gambler is being retooled for modern audiences with a cast that already includes Lone Survivor's Mark Wahlberg, Short Term 12's Brie Larson, American Horror Story's Jessica Lange, Boardwalk Empire's Michael K. Williams, and Travis Tope, who will be seen in Jason Reitman's Men, Women & Children, which is currently in production.
The original was based on the true-life traumas of its screenwriter James Toback, centering on a literature professor whose addiction to gambling puts his personal relationships at risk while mixing him up with some shady characters. The Wrap reports Academy Award-winning screenwriter of The Departed, William Monahan, is drafting the new version. This will have Wahlberg as the titular anti-hero and Goodman in the role of a Jewish loan shark to whom he owes a hefty sum.
For her part Lange will play Wahlberg's worried mother. The 24-year-old Larson is said to be playing the 42-year-old actor's girlfriend, making for an age difference of 18 years. We can count this May-December romance as one of the changes the remake's director Rupert Wyatt (Rise of the Planet of the Apes) is bringing to The Gambler, as the age gap between the original's stars was just three years. It's currently unknown what roles Williams and Tope have in this feature.
See some vintage James Caan and Lauren Hutton in this clip from Karl Reisz's The Gambler:
Goodman has been on a roll lately, appearing in a string of hits in 2013. Last spring, he joined the Wolf Pack for The Hangover Part III, which despite poor reviews earned a whopping $362 million worldwide. Next came another Goodman-blessed sequel in the form of Monsters University, which brought in a whopping $743 million worldwide. Then with the winter came Inside Llewyn Davis. While no big dog at the box office, this 1961-set drama has become a critical darling with three Golden Globe nods that is in a solid spot for serious Oscar nominations. On top of all that, Goodman has unveiled his own TV series Alpha House, which is available on Amazon Prime. And let's not forget how he hosted Saturday Night Live for the 13th time.
Staff writer at CinemaBlend.
Your Daily Blend of Entertainment News
Thank you for signing up to CinemaBlend. You will receive a verification email shortly.
There was a problem. Please refresh the page and try again.