John Hawkes To Front Indie Thriller Too Late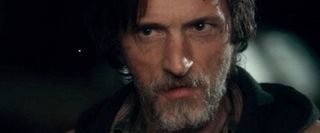 Since he dazzled critics and audiences alike with his Oscar-nominated portrayal of Teardrop, the growling defender of Jennifer Lawrence's heroine in Winter's Bone, character actor John Hawkes has been reason enough for many of us to seek out even his most obscure indie efforts. Since then he has drawn praise for his creation of the nicknaming cult leader in the dreamy and devastating drama Martha Marcy May Marlene, his complex portrayal of a virgin in an iron lung in the Sundance selected biopic The Surrogate and as a cuckolded husband in the heartbreaking Tribeca Film Festival offering The Playroom. Whatever the subject matter, whatever the role, Hawkes is guaranteed to make any movie he is attached to something worth watching. So it's great news for first-time feature film director Dennis Hauck that Hawkes has just signed on to front his upcoming thriller Too Late.
THR reveals Hawkes will play a distraught private investigator tasked with locating a missing woman with whom he has a complicated relationship. The screenplay, penned by Hauck, is said to unfold in a non-linear manner, which seems an enticing enough device to snare Hawkes' interest. Thrilled to get the buzzed about indie actor, the film's producer Alexandra Barreto and Taylor Feltner are currently arranging the production around Hawkes' schedule, meaning Too Late will shoot at the end of this month in Los Angeles, likely before Hawkes will take part in the Jackie Brown prequel Switch.
Also starring in Too Late is Justified's Natalie Zea, Nepal-born actress Dichen Lachman of Dollhouse, former Boy Meets World star Rider Strong, Brett Jacobsen of The Myth of the American Sleepover and film historian/writer/director/critic and sometimes actor Peter Bogdanovich. Though I'm pulling for the striking Lachman to play the mysterious lady at the thriller's core, the specifics of their roles have not been released. Regardless, this curious compilation of performers is enticing and could be enough for this indie to find its way on the radar of major festivals next year.
Staff writer at CinemaBlend.
Your Daily Blend of Entertainment News
Thank you for signing up to CinemaBlend. You will receive a verification email shortly.
There was a problem. Please refresh the page and try again.