John McTiernan Wrote A Thomas Crown Affair Sequel While In Prison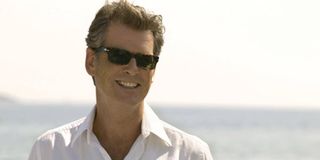 First he went to director jail, then he went to actual jail: director John McTiernan was a long way from Die Hard and Predator when he was behind the camera for junk like Rollerball and Basic. A conviction for lying under oath in the infamous Anthony Pellicano wiretapping trial sent McTiernan to prison, where he's been since. Though, wouldn't you know it, he's spent the time writing a sequel to one of his most beloved movies, The Thomas Crown Affair.
Speaking to Empire, John McTiernan has revealed he finally penned a sequel to 1999's The Thomas Crown Affair entitled Thomas Crown And The Missing Lioness. Take it away, Johnny!
A Thomas Crown followup has been in the works for forever. The 1999 film, which starred a peak-suaveness Pierce Brosnan and Rene Russo, was a sleeper hit in the crowded summer of '99, grossing $124 million worldwide. Though you'd hope this doesn't need to be said, it was the remake of a 1968 crime caper starring Steve McQueen. There's some divide over which Thomas Crown Affair is superior to the other, rare as far as remakes. Let's just call it a dead heat: the recent version is more sentimental and sleeker, but the older one had McQueen. Hard to beat.
Years ago, MGM was trying to get The Topkapi Affair going, a sequel to the original that would, in turn, also be remaking the classic heist film Topkapi. It's mostly a shame that we lost that film, since it was briefly in the hands of Paul Verhoeven, who hasn't made it back to Hollywood since Hollow Man. Paul, seriously, we miss you.
John McTiernan has other meals cooking as well, aside from the aborted Shrapnel that was to star John Travolta. Reportedly, he's still interested in making Red Squad, about a rogue DEA agent taking over a gang of mercenaries to overthrow a Mexican drug lord. Honestly sounds awesome, until you realize it never get funding: the presence of lead actors Nicolas Cage and Colin Farrell, who are attached and are obvious box office poison to anyone paying attention. Of course, that sixth Die Hard needs a director, and McTiernan taking the reigns couldn't make a film worse than A Good Day To Die Hard, could he?. Maybe McTiernan can even hook up with Arnold again with Arnold again. Sky's the limit.
Your Daily Blend of Entertainment News
Thank you for signing up to CinemaBlend. You will receive a verification email shortly.
There was a problem. Please refresh the page and try again.