Johnny Depp's Mortdecai Trailer Is Even Weirder Than You'd Guess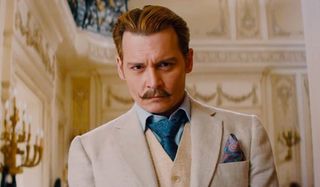 Much like his man turned machine in Transcendence, Johnny Depp is everywhere, popping up in Kevin Smith movies, big overwrought blockbusters, flashy musicals, and now an action-comedy called Mortdecai. In the trailer above you can get the flavor of this farce that has Depp playing the titular sophisticate with an eye toward crime and an impossible mustache.
Based on Kyril Bonfiglioli's novels, Mortdecai follows Charles Mortdecai (Depp) on a quest to track down a stolen Francisco Goya painting that might be linked to a treasure trove of Nazi gold. According to the Yahoo trailer up top, this work of art might be sold to fund nefarious causes, and so they call in not a secret agent or spy but an art dealer named Mortdecai. He's a goofy aristocrat with a beautiful and demanding wife (Gwyneth Paltrow) and a bodyguard/man servant named Jock Strapp (Paul Bettany). But though this man seems to have it all, he's actually close to broke and so he and Jock plan to snatch this coveted painting for themselves. What could go wrong short of everything?
Entrusted to translate Kyril Bonfiglioli's beloved character to the big screen is screenwriter Eric Aronson, who's only previously produced screenplay is the 2001 romantic comedy On the Line. You know, the one that co-starred NSYNC members Lance Bass and Joey Fatone? The helmer of Mortdecai is screenwriter turned director David Koepp, whose previous helmer credits include the underwhelming Johnny Depp vehicle Secret Window, and the box office flops Ghost Town and Premium Rush. But hey, this pic has two of Iron Man's supporting players (Paltrow and Bettany), a flirtatious Olivia Munn, and the star of Dark Shadows, The Lone Ranger, and Transcendence. What could go wrong short of everything?
Depp's been on a downward spiral of late that began in 2011 with the release of The Rum Diary, a $45 million film that took in just $23.9 million worldwide. Next came Tim Burton's Dark Shadows, which boasted a bloated price tag of $150 million dollars. This was loathed by critics, and pulled in just $79 million domestic. But the overseas number of $165 million helped soften the blow of this TV translation. Then came The Lone Ranger, a bomb so big it was estimated to have lost Disney $150 million thanks to its $250 million budget plus $175 million spent on advertising the comedy/western/catastrophe around the world.
Lastly, this year brought Transcendence, a critically scorned sci-fi drama that cost $100 million to make and made just $23 million domestic.
All this is to say that the age of Johnny Depp capering carelessly about in big Hollywood movies may well be drawing to a close. And if he wants it to continue, both Into the Woods and Mortdecai better blossom at the box office.
Mortdecai opens January 23, 2015.
Your Daily Blend of Entertainment News
Staff writer at CinemaBlend.