Jonah Hill Replacing Demetri Martin In Moneyball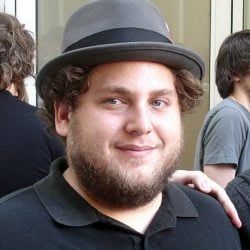 By now Demetri Martin was supposed to be a big star. He was the lead character in Ang Lee's summer 60s tribute Taking Woodstock, despite having only worked as a standup comedian previously, and he'd been cast in Steven Soderbergh's Moneyball project even before Lee's film opened. Then a lot of things that had nothing to do with Martin went wrong. First Soderbergh was kicked off Moneyball just days before production was to start, then Woodstock was a box office disappointment and quickly forgotten. Bennett Miller signed on to direct Moneyball last December, and while we hadn't heard anything one way or another, it was safe to assume Martin would still be playing Paul de Podesta, the Harvard graduate who applied economics knowledge to help the struggling Oakland A's baseball team.
But now there's been yet another shakeup on the Moneyball squad-- The Playlist is reporting that Jonah Hill has been brought in to replace Martin, apparently with the goal of giving the movie a broader comedic appeal. While Martin was always a big question mark as the lead of a major studio movie, the Hill casting seems truly bizarre. Plus, he's already involved in half a dozen upcoming projects-- when is he going to have time for this one?
Brad Pitt is apparently still on board to play A's general manager Billy Beane, despite the fact that Soderbergh has bailed. While it's hard to imagine Hill playing a Harvard graduate economics whiz, it's nearly incomprehensible to think of him and Pitt sharing the screen. With all the changes and stops and starts, is Moneyball turning into some kind of hydra monster? Or is there some method behind what seems like madness here? Until production on this thing actually gets started-- there's no specific plan just yet-- there's no way of knowing.
Staff Writer at CinemaBlend
Your Daily Blend of Entertainment News
Thank you for signing up to CinemaBlend. You will receive a verification email shortly.
There was a problem. Please refresh the page and try again.