Joss Whedon Reveals Why He's Done With Marvel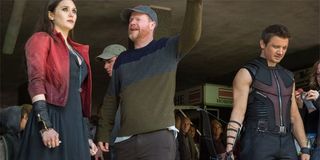 The Marvel Cinematic Universe owes a great deal of its success to the masterful work of Joss Whedon. In terms of story and direction, the man guided the franchise from The Avengers all the way through the immensely successful Phase 2 films. However, despite all the success the filmmaker has finally decided to make a break from Marvel Studios.
ComicBook.com reports that during a recent Q&A session, Joss Whedon clarified the nature of his current relationship with Marvel, stating that he is no longer involved in the creation of Marvel films or shows in any significant capacity:
Honestly, it just sounds like the act of working for Marvel wore Joss Whedon out. On a professional level, Marvel keeps their properties pumping out at a fairly constant rate. Whedon did not direct every Phase 2 film, but he described his role during that period as that of a "showrunner," meaning he had some degree of involvement in everything, and was likely constantly trying to keep multiple plates spinning. He even admitted very publicly that the making of Avengers: Age of Ultron "broke" him due to the required commitment. On a more personal level, we also have to remember that Whedon took quite a bit of flak when Age of Ultron failed to live up to the standard set by its predecessor. Fans are great to have on your side, but the second you don't satisfy their every need they turn on you quickly; Whedon found that out earlier this summer.
Based off of these comments, it seems clear that the filmmaker wants to scale down his projects in the near future and not work for a major studio that will hand him a blank check. Fans of his work on Firefly and Buffy the Vampire Slayer know how well he works when it comes to serialized television, so hope remains that we have yet to see the peak of his potential.
Check out the rest of Joss Whedon's Q&A session below:
While Joss Whedon's deft hands guided Earth's Mightiest Heroes capably through the last few years, fans should feel comfortable knowing what's coming. Marvel seems to have a knack for finding strong filmmakers to helm their biggest movies – see: Shane Black, The Russo Brothers, Jon Favreau – so we have the utmost faith in their ability to keep that trend alive. Good work, Mr. Whedon, now take some much needed rest.
Your Daily Blend of Entertainment News
Originally from Connecticut, Conner grew up in San Diego and graduated from Chapman University in 2014. He now lives in Los Angeles working in and around the entertainment industry and can mostly be found binging horror movies and chugging coffee.