Judy Garland Biopic Gets Happy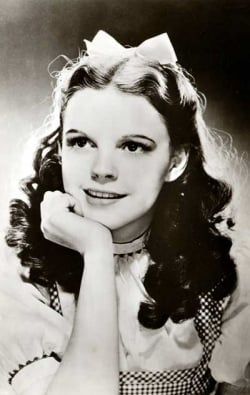 Judy Garland had one of the most successful, brief and troubling careers in Hollywood history, and it's already been the subject of a hit TV movie, Life with Judy Garland: Me and My Shadows. Now Garland will be getting the full movie treatment all over again, 40 years after her death, with the Weinstein Company's planned biopic.
The movie, according to Variety, will be based on Gerald Clarke's Get Happy: The Life of Judy Garland. Clarke also wrote the biography Capote, which was turned into Dan Futterman's 2005 film that won Philip Seymour Hoffman an Oscar, and earned a screenplay nomination of its own. There's a good track record there, but then again, Garland's story dips into some of the nastiest elements of the studio system, and most likely digs up dirt on people who are still alive. Is this a story that Hollywood is actually capable of telling?
Garland, who died at 47 of a drug overdose, was a vaudeville star alongside her sisters before she was signed to MGM, where she became a star in "backyard musicals" with Andy Rooney and, most notably, The Wizard of Oz. The callous way the studio treated her, along with the common practice of feeding child stars amphetamines to keep them working, left Garland with a lifetime of insecurities and drug addictions. The story is fascinating and sad, and let's face it-- perfect movie material.
Staff Writer at CinemaBlend