Jurassic World Prepares Us For The New Trailer With Dinosaurs And A Familiar Tune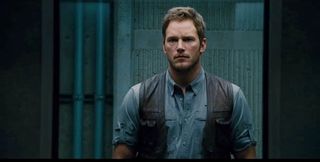 The Jurassic World trailer is coming very soon, and to tease us with whatever dinosaur mayhem might ensue, Universal has offered up a teaser that includes the time and place for the reveal of the full trailer...
As the video above indicates, the full trailer will arrive stateside on Thursday (Thanksgiving) during the football game on Thanksgiving.
As exciting as it is to see Dinosaurs on the run and other glimpses of Colin Trevorrow's highly anticipated Jurassic World, it's the sight of the doors opening and those few familiar notes from John Williams' beloved score that really get our appetites up for whatever we're about to see when the full trailer arrives this Thanksgiving. And then we have months to wait for the film to hit theaters (June 12, 2015).
Let's take a closer look at what there is to see here, starting with the opening of the "Jurassic World" doors...
And then there's dinos on the run, with a jeep cruising through it...
And another glimpse of a much bigger dinosaur here, and what appears to be a pod...
Seems safe enough, right? (Probably not).
And we also get a glimpse of the control center, where Bryce Dallas Howard looks concerned...
Check out the map of the "Restricted Area" in front of her...
And finally, never fear, Star Lord Chris Pratt is here...
We'll have more to see and surely much more to say when Thursday arrives and delivers the full trailer to us like a Thanksgiving Turkey with all the fixings. This week must go faster.
Your Daily Blend of Entertainment News
Thank you for signing up to CinemaBlend. You will receive a verification email shortly.
There was a problem. Please refresh the page and try again.