Justice League Movie May Introduce An Important DC Comics Hero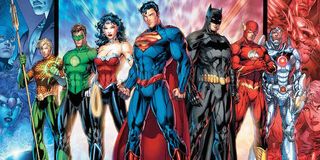 When DC Comics' most famous superhero team makes their big screen debut in Justice League Part One, there's going to be a lot of classic faces from the comics. Superman, Batman, Wonder Woman, Aquaman, Flash and Cyborg are all confirmed to appear, and it's also possible Green Lantern might show up. While those seven will most likely comprise the whole Justice League, they may not be the only superheroes that show up. There's word now that a key character from Aquaman's supporting cast will debut, and she's every bit a hero in her own right: his wife Mera.
Although it was reported last year that she would be one of the main characters in the 2018 Aquaman movie, Heroic Hollywood has heard that Mera will be introduced a year before in Justice League Part One. She is described as the "Khaleesi of the sea" (how appropriate given Jason Momoa's past role as Khal Drogo on Game of Thrones), and, just like in the comics, Aquaman's true love. The article didn't mention who is being looked at to play her, but assuming this information is true, said actress would presumably get a decent amount of screen time.
Rather than being born in Atlantis, Mera hails from Xebel, an underwater colony whose citizens are the descendants of Atlanetan separatists that were exiled. In the modern era, it was revealed that Mera was originally sent by her people to kill Aquaman, but instead she fell in love with him and gave up her mission. Not content with simply fulfilling her duties as queen of Atlantis, Mera frequently goes out to fight evil as well, and she's been heavily featured in the New 52 Aquaman series over the last several years.
In addition to having nearly all of the same powers as her husband (breathing underwater, super strength, etc), Mera is also gifted with aquakinesis, which allows her to not just manipulate water with her mind, but also form "hard water" objects, which comes in handy when she needs a weapon to wield. There was no mention of whether Mera will be directly involved in the action, but how great would it be to see her fighting alongside Aquaman and the other Justice Leaguers. Personally, I'd like to see her overwhelm a force of Darkseid's Parademons.
The article also details how Mera and Aquaman have had their conflicts in the comics, like when she was mind controlled against him or when she held him responsible for the death of their child. Although Black Manta and Ocean Master have been rumored to be villains in Aquaman, perhaps the King of Atlantis' solo movie might instead feature Mera possibly turning against Aquaman, which in turn might lead to her people from Xebel attacking Atlantis. If that's the case, perhaps Justice League Part One will foreshadow this "power couple's" troubles.
We'll keep you updated on any news regarding Mera's potential appearance, but either way, Justice League Part One hits theaters on November 17, 2017.
Your Daily Blend of Entertainment News
Connoisseur of Marvel, DC, Star Wars, John Wick, MonsterVerse and Doctor Who lore. He's aware he looks like Harry Potter and Clark Kent.