Kate Beckinsale Might Not Be Done With Underworld, Here's The Latest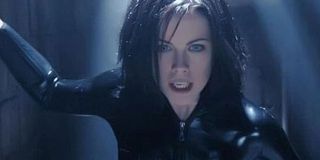 Selene's days aren't up yet. Despite rumblings that the Underworld franchise would barrel on without her, Kate Beckinsale is attached to continue playing the gorgeous vampire warrior for at least one more film. And there's a lot more to come in the wave of Underworld franchising.
Screen Rant reports Len Wiseman dropped details on the expansion of the Underworld universe while he was at New York Comic Con promoting his hit television series Sleepy Hollow. Wiseman, who helmed Underworld and Underworld: Evolution and happens to be married to Kate Beckinsale, revealed that Underworld has three branches of expansion in the works, a "soft reboot," another Beckinsale-fronted feature, and a television series. At this time, all three are in development. Wiseman declined to comment as to which might roll into production first.
Word of an Underworld reboot first hit last August, when the saga's most recent entry (Underworld Awakening) ended up being the biggest hit the franchise had seen. It now appears that Underworld Awakening was such a success that Screen Gems is doubling down. Theo James, who played David in the film, is being set up for a spin-off feature Underworld: Next Generation. The script will have characters created by past Underworld writers Kevin Grevioux, Danny McBride and Len Wiseman, but will be scripted by Cory Goodman, who penned the Paul Bettany vampire thriller Priest as well as the Vin Diesel vehicle The Last Witch Hunter, which is now in production. So, it's not so much a reboot, as a spin-off.
Far less is known about the Selene-centered sequel that Wiseman is pitching. It's future might depend on Beckinsale's upcoming schedule. She recently wrapped on the Terry Jones-directed comedy Absolutely Anything, and is currently in production on The Disappointments Room. This thriller is being shot in Greensboro, North Carolina and centers on a family who moves into a rural haunted house. It's being directed by D.J. Caruso, who is best-known for the 2007 Rear Window remake Disturbia. But The Disappointments Room's most enticing element is its screenwriter, Wentworth Miller, a TV star turned celebrated scribe thanks to his brazen and bonkers Stoker.
Lastly, there's the Underworld television series. It's an obvious way for this vampires versus werewolves franchise to expand. First off, Underworld is still strong with fans. Then, vampires have a long and successful history on TV dramas, from Dark Shadows to Buffy The Vampire Slayer and its spin-off Angel. Now add to this the series's ability to tease "from the makers of Sleepy Hollow" and you have a show that could well be the toast of a fall season in the not too distant future. Possibly even a TV show that Kate Beckinsale could cameo in every once in a while.
To see Len Wiseman's New York Comic Con interview, click to page 2.
Your Daily Blend of Entertainment News
Staff writer at CinemaBlend.