Kate Bosworth Checks Into Lost Girls And Love Hotels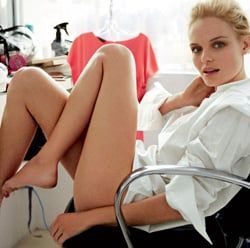 Kate Bosworth splashed (HA!) onto the scene with Blue Crush back in 2002 and many thought she was going to be the next big thing. This was further justified by her being cast as Lois Lane in Superman Returns. Unfortunately, no one really remembers Blue Crush anymore, and Superman Returns didn't have the staying power that it should have. So we haven't seen much from her since.
Now Kate is trying to get back in the game. According to THR, Bosworth has signed to star in Lost Girls and Love Hotels, a film that has her playing a woman with a sketchy past living in Tokyo. She's an English specialist for a stewardess training facility and at night she indulges in the all of the sins of the world. Things change when she becomes interested in a "missing Western girl." The flick will be directed by Jean-Marc Vallee and written by Nadia Conners.
The movie will be based on the novel of the same name, and reading bits of it on Amazon has led me to conclude that this may not be all that interesting. Sure, with good direction and decent script, the premise can be taken somewhere entertaining, but a redemption story about a 20-something who deals with her problems by having sex and drinking? SNORE.
Your Daily Blend of Entertainment News