Katie Holmes Offered Sex And The City 2 - UPDATED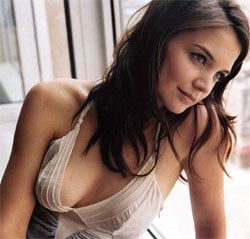 Katie Holmes is on her way to being miscast again. In Batman Begins she was miscast as a take no prisoners attorney and she played the part as if she were some sort of helpless, shrinking violet. Now she's been approached to play another type-A personality in Sex and the City 2.
TVNZ claims she's been offered the part of a "ballsy, high-powered" New York business executive who crosses swords with Samantha. I have a hard time picturing Samantha battling it out in the world of high finance, so I'm imagining them fighting over the same man. Because that's all women really want. Men. Snark indicated.
Sarah Jessica Parker, Kim Cattrall, Cynthia Nixon, Kristin Davis, and Mr. Big Chris Noth are all back for the follow up to the wildly successful 2008 Sex and the City film. No concrete word yet on what it'll be about, but I'm guessing either kids or menopause. Really, I'm hoping for menopause. How will Carrie deal with unexpected hot flashes while maintaining her extravagant lifestyle devoted to an obsession with shoes? You'll find out in 2010.
UPDATE! Katie Holmes reps have denied this rumor. Details here.
Your Daily Blend of Entertainment News