Kellan Lutz And Spencer Locke To Play Performance-Captured Tarzan And Jane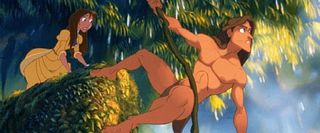 Even after the more than troubled release of the last Edgar Rice Burroughs' adaptation, Andrew Stanton and Disney's John Carter, Germany-based Constantin Film continues to develop a new Tarzan project. To be fair, Tarzan is an iconic character in his own right and far more pervasive in poplar culture than the man 'Of Mars,' not to mention that this adaptation will also be animated so I suppose the similarities end with the author. And 'animated' is also perhaps misleading since this adaptation of Burroughs' hero will look nothing like the Disney effort from 1999, as this is a 3D, all CGI production with motion-capture for the performances.
THR reports that Twilight's Kellan Lutz has signed on to 'play' the title character with Resident Evil's Spencer Locke as his Jane Porter. Lutz' series is perhaps a little more popular than Locke's, meaning Emmett Cullen might be more well known than K-Mart, but they both seem well suited to mo-cap these famous roles. Lutz just appeared as a Greek God in Immortals and will soon be back as a Cullen for the final film in the Twilight series, Breaking Dawn Part II, this November. You can currently catch Locke starring opposite Josh Hutcherson in Joseph Kahn's Detention.
Reinhard Klooss and Holger Tappe are co-directing the animated feature based on Burrough's most famous work. Klooss also co-wrote the script with Yoni Brenner and Jessica Postigo and the trio's take on the classic will slightly alter the hero's adventure. In this film, Tarzan's parents are still billionaire adventurers, but instead of being marooned with their child they are now killed in airplane crash. The film's main antagonist (a la Iron Man) will be the man who takes over as CEO of the family's company Greystoke Energies and plans some anti-environmental acts in the jungle. Jane enters the tale as the daughter of an African guide and works with (and presumably falls for) Tarzan to defeat mercenaries from Greystoke Energies and ensure the preservation of the African jungle.
Your Daily Blend of Entertainment News
Thank you for signing up to CinemaBlend. You will receive a verification email shortly.
There was a problem. Please refresh the page and try again.