Kevin Spacey Will Play A Cat In His New Movie Nine Lives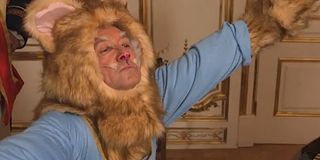 Have you ever imagined Kevin Spacey as a cat? Well if your mind has ever wandered off into this unique scenario, then today is your lucky day. That's because the Oscar-winning actor has signed up to portray a man who finds himself trapped in the body of a feline for Barry Sonnenfeld's high-concept comedy, Nine Lives.
According to The Wrap, Kevin Spacey has signed up to star in Nine Lives, which revolves around a workaholic businessman, who, after being involved in a terrible accident, finds himself trapped inside the body of a family cat. Then, we can only assume that madness ensues.The project comes from a script written by Daniel Antoniazzi and Ben Shiffrin, and filmmaker Barry Sonnenfeld has described Nine Lives as a "funny, emotional, commercial comedy." And while that might a little be too sickly sweet for some moviegoers, Kevin Spacey's presence is sure to add some edge to the project.
How could it not? Kevin Spacey's unique cinematic personality has seen him effortlessly add an effervescent menace as well as intrigue to every character he has ever played - be it John Williamson in Glengarry Glen Ross, John Doe in Seven, Keyser Soze in The Usual Suspects, Lester Burnham in American Beauty or Lex Luthor in Superman Returns. Heck, even roles when he has only used his voice, Gerty in Moon and Hopper in A Bug's Life, have teamed with power.
Those of you who are struggling to picture Kevin Spacey as a cat in Nine Lives should check out the clip below. That's because Kevin Spacey previously portrayed a feline for a Jimmy Kimmel Live! YouTube film titled Ameowadeus. But rather than just being a run-of-the-mill cat, Spacey's feline was also able to play the piano. Plus, another reason to watch it is that it's a delightfully unique homage of Amadeus, while it also stars the precocious talents of Christoph Waltz, Gary Oldman, Mandy Patinkin and Sir Ben Kingsley. Enjoy.
Nine Lives is the latest comedy that Kevin Spacey has signed up to, and if his recent comedic turns are anything to go by it should be pretty successful. I mean, Horrible Bosses and Horrible Bosses 2, while far from great, were both passable and enjoyable, and he enhanced them both with his presence. Meanwhile, Nine Lives will also profit from the fact that it has Barry Sonnenfeld at the helm. Yes, his last two outings as a director, Men In Black 3 and RV, were pretty run of the mill, but the fact that he has overseen Men In Black, Get Shorty and The Addams Family proves that he is capable of creating a mainstream comedy with a quirky aesthetic. Fingers crossed it will be shot in 2015 ahead of a release in 2016.
Your Daily Blend of Entertainment News