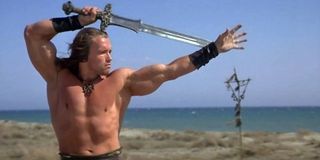 Arnold Schwarzenegger's comeback has gone... well... it's certainly gone, hasn't it? The movies haven't really performed up to anybody's expectations. By the time Sabotage rolled around earlier this year, we started to wonder if he was even a leading man anymore. Well, clearly our opinion is moot, because Schwarzenegger still sees himself as a king. A King Conan, if you will.
TheArnoldFans, a fan site for all things Schwarzenegger, recently caught up with King Conan producer Fredrik Malmberg and he claimed that it could be spring 2015 when Schwarzenegger once again crushes his enemies, sees them driven before him, and hears the lamentations of their women.
Malmberg also claims that they're currently on the hunt for a director and that it's very possible this could be Schwarzenegger's next film following Terminator: Genesis . While they've been in touch with filmmakers that include "old great faces ;) and new fresh faces." Surely he's not talking about original Conan The Barbarian helmer John Milius, no? Last we've heard, the legend has been having several health struggles, and has likely directed his last movie.
Universal has interest in reviving the property as long as the script is right, with an ambitious plan to link it to the original film, skipping over the events of Conan The Destroyer and Red Sonja. It would also be divorced from the 2011 remake starring Jason Momoa. Hey, remember that? Lionsgate's over-enthusiastic plan involved a massive Conan universe, including a Red Sonja spinoff. Talk about ambition.
This issue has to be addressed, however: Schwarzenegger will turn 68 during this film's theoretical production. Granted, this Conan is meant to be an elderly king, but it will also require the physical challenges of engaging in his last adventure. How long can the Austrian Oak battle onscreen before it's less-than-convincing? We'll see soon if the news about the mighty barbarian is true. In the meantime, if you haven't seen the 32 year old original film, what are you waiting for? Schwarzenegger might be a shadow of his older self, but that film was him at peak stardom. Seeing him as the mighty leviathan hunting down the evil Thulsa Doom is all the reason you need for why the studio would attempt to revive the franchise.
Your Daily Blend of Entertainment News