King Kong: Skull Island Picking Up A Fantastic Four Villain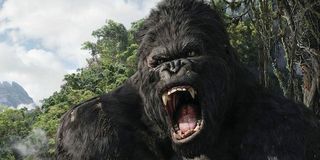 He recently menaced the Fantastic Four from another dimension, and he's played a sinister bonobo in Dawn of the Planet of the Apes. Now it looks like Toby Kebbell is going to put his particular set of skills to good use as he's joining another angry monkey movie: Kong: Skull Island.
According to The Hollywood Reporter, the 33-year-old Kebbell is in negotiations to join the cast of the latest King Kong-centric adventure. If he does indeed climb aboard, he'll join the likes of Tom Hiddleston, Brie Larson, and Corey Hawkins, who have already signed on, and potentially Samuel L. Jackson and John C. Reilly, who have been linked to project as well in recent days.
There are no details about his potential role at this point, but I'm going to come right out and ask this: is Toby Kebbell playing King Kong? This is pure speculation at this point, but it makes a decent amount of sense, and it would be completely awesome.
Outside of Andy Serkis, the British actor is one of the most accomplished motion capture practitioners working today. He's playing a giant special effects monster in the upcoming Warcraft movie, and in Dawn of the Planet of the Apes, even under countless layers of pixels, he manages to deliver a powerful performance that encompasses a wide range of emotions—as characters, the apes are so much better and well rounded than their cardboard human counterparts. King Kong is usually viewed as a kind of sympathetic character, taken from his home, thrust into unfamiliar circumstances, and abused until he can't take it anymore and explodes. Kebbell has demonstrated a unique set of skills that few others have, and could very well bring something special to this role. Then again, maybe he doesn't want to play an ape again.
Skull Island has had issues keeping cast members in place, with both Michael Keaton and J.K. Simmons recently leaving the production because delays caused scheduling conflicts—Samuel L. Jackson and John C. Reilly are reportedly circling the roles the other actors vacated.
What little we know of the plot places the action in the 1970s. The film will reportedly start off in Detroit, though it appears that the bulk will take place on the titular island, where a variety of creatures, including the iconic great ape, dwell. Jordan Vogt-Roberts (The Kings of Summer) is directing, and it was reported earlier this week that Jurassic World co-writer Derek Connolly has been brought on to work on the latest rendition of the script.
Scheduled to begin filming this October in Hawaii, Kong: Skull Island will hit theaters on March 10, 2017.
Your Daily Blend of Entertainment News