Knight Of Cups Trailer: Christian Bale Gets Terrence Malicked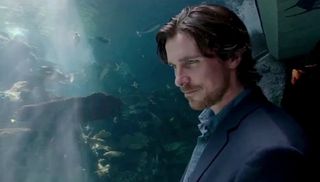 The first trailer for Terrence Malick's new film Knight Of Cups has been released and it is just as peculiar and beautiful as you'd expect. It also gives us a look at Knight Of Cups' rather magnificent cast, which boasts arguably the three best actors in Hollywood at the moment. You can check out the clip below.
As you can probably tell, Knight Of Cups won't be for everyone. But Terrence Malick does appear to have embraced a more mainstream plot that looks as though it will revolve around Christian Bale's attempt to juggle relationships with both Cate Blanchett and Natalie Portman. Along the way he will almost certainly incorporate the usual visual decadence and subtle plotting that has become a hallmark of his films too.
The fact that Knight Of Cups features the combined acting talent of Christian Bale, Cate Blanchett and Natalie Portman is enough to intrigue any passionate moviegoer though. But it doesn't stop there. The rest of the ensemble is packed out with Brian Dennehy, Antonio Banderas, Freida Pinto, Wes Bentley, Teresa Palmer, and Imogen Poots, while Ben Kingsley's voice will also feature in some fashion too. Not too shabby.
Of course the fact that Terrence Malick is widely regarded as one of the most visually innovative and compelling filmmakers in the history of cinema is the reason why each of these actors leapt at the opportunity to join the ensemble for the film. Plus, he also has developed a rather wonderful habit of coercing career-defining performances from each of his cast too. The fact that he oversaw Sean Penn in The Thin Red Line, Martin Sheen in Badlands, and Richard Gere in Days Of Heaven is proof of that.
But why is there so much excitement and furore over Knight Of Cups? Well because, at the moment, Terrence Malick is on quite the hot streak. Having previously only directed four films in 32 years, since 2011 he has been hard at work on five films. These have included 2011's The Tree of Life and 2012's To The Wonder. Terrence Malick even shot Knight Of Cups back to back with Project V, both of which should be out at some point in 2015. Meanwhile he's also currently working on the post-production for Voyage of Time too. In fact, before 2011, Terrence Malick was regarded as so being such a recluse that this screenshot from his brief appearance in Badlands as the caller at the rich man's house was the best image moviegoers had of the cinematic visionary.
It's both a relief and a delight that Terrence Malick's vigour for cinema has returned. And we should all feel privileged to live in an era when we get to see new films from him on a regular basis. You can start to take advantage of Terrence Malick's recent cinematic streak when Knight Of Cups is released in February 2015.
Your Daily Blend of Entertainment News
Thank you for signing up to CinemaBlend. You will receive a verification email shortly.
There was a problem. Please refresh the page and try again.