Terrence Malick Wants You To See Zoolander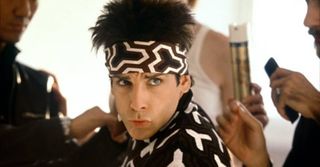 He hasn't gotten a parody Twitter feed like Michael Haneke, but Terrence Malick is a similarly fascinating auteur, and even more mysterious. He stopped doing interviews in the 70s, spent 20 years completely off the map before making 1998's The Thin Red Line, and has gone from being one of the world's least prolific directors to one of the most, with three films set for release in the next year or so.
Even though he ought to be busy editing the features Knight of Cups and the untitled one that involves Val Kilmer wielding a chainsaw, Malick is somehow adding even more to the plate-- bringing Zoolander to the good people of Oklahoma. Malick will be the first guest curator of the "Films on the Lawn" series at the Philbrook Museum of Arts in Tulsa, which has held outdoors screenings on its 23 acres of gardens for nearly 40 years. According to the museum's Online Communications Manager Jeff Martin, Malick offered five films for the series, three of which will be shown in addition to Malick's own Badlands in honor of its 40th anniversary. Below is the full list:
"We were kind of dumbfounded too when we saw something like Zoolander, which was out of nowhere," explains Martin, who arranged the series through Malick's associates and didn't meet with the elusive man himself. When Malick was shooting his new film To The Wonder in nearby Bartlesville, the town north of Tulsa where he grew up, several location managers visited the Philbrook Museum, establishing enough of a connection that Martin could go back and ask Malick to serve as the series' first guest curator. The director sent back a list of five films, including the 1959 epic Ben-Hur and the landmark silent documentary Nanook of the North, which will be included as suggested home viewing (an outdoor screening of the nearly four-hour Ben-Hur being a tough summer evening sell).
Martin allows that you might be able to find some similarities between some of these choices and Malick's own work, but as for Zoolander, Malick's associates merely allowed that "these were his personal favorite films." Martin adds, "I think one interesting thing about people like him and interesting artists is they always kind of confound our expectations."
The Philbrook curators are working with Malick's people to provide some introductory remarks to be read before the screenings, but don't count on a lot of definitive answers. "In some ways it's best left unsaid, the mystery of it," Martin says. "Just knowing that it's one of his favorite films is probably better than knowing why."
For more on the museum and Films on the Lawn, visit the museum website.
Staff Writer at CinemaBlend
Your Daily Blend of Entertainment News
Thank you for signing up to CinemaBlend. You will receive a verification email shortly.
There was a problem. Please refresh the page and try again.