Knock Knock Trailer: Keanu Reeves Sleeps With The Wrong Psychopaths In Sexy Thriller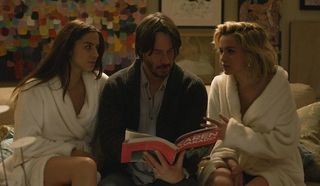 Horror movies have a long history as sexual cautionary tales. The teens that have sex are always the first ones to die in slasher films, It Follows showed us that you can catch something way scarier than an STD, and in this new trailer for Eli Roth's Knock Knock, Keanu Reeves learns the hard way that he really should have kept it in his pants.
This latest trailer shows off more of the set up of Knock Knock than the last, making clear exactly what the stakes are for the protagonist. Portrayed by The Matrix star, Evan Webber is an architect and a family man, home alone who learns a couple of very valuable lessons you can glean from horror as a genre.
First, never open the door at night, especially if it's raining. Nothing good will come from that. Even if you think you're doing a good deed, like helping stranded motorists, you're totally screwed. No good deed, I guess. The second, which we've already alluded to, never, ever have sex with anyone, especially strangers. Really, when you think about it, horror, as a whole, is telling you to never have sex and never help anyone.
But poor Evan Webber, he learns these lessons the hard way when two beautiful young women (Lorenza Izzo and Ana de Armas) knock on his door in the middle of the night, soaking wet, and looking to have a little fun. And their version of fun is a wee bit different from most of ours, at least I hope, as it involves seducing Keanu Reeves, then just torturing and tormenting the living hell out of him. Granted, he has some comeuppance on the way for cheating on his wife, but tying him up, beating him, maybe burying him alive, and chasing him around his own house with a shotgun may be a bit overboard.
Knock Knock is one of two directorial efforts that Eli Roth (Hostel) has hitting theaters this fall. The first is his take on the 1970s cannibal exploitation subgenre, The Green Inferno, which finds a bunch of do-gooders held captive in the Amazon by a tribe of people who, very simply, want to eat them. After making its debut at the 2013 Toronto International Film Festival, it was originally slated to hit theaters in September of last year, but it was shelved last minute and will come out on this September 25 instead.
Just a few weeks later, we get Knock Knock, the horror favorite's take on the home invasion subgenre. Another festival film, it premiered at Sundance earlier this year, but will make its way to theaters in a much timelier manner, launching on October 9.
What do you think of this trailer? Does Keanu get what's coming to him?
Your Daily Blend of Entertainment News
Thank you for signing up to CinemaBlend. You will receive a verification email shortly.
There was a problem. Please refresh the page and try again.