Kristen Bell Joins The CHiPs Reboot, Which Has A Stellar Cast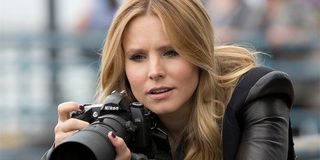 Perhaps this won't come as the most shocking news, especially considering that her husband is directing the film, but Kristen Bell has joined the cast of hubby Dax Shepard's upcoming adaptation of the fan-favorite 1970s and '80s cop drama CHiPs. While you may be thinking, "Oh, great, yet another reboot," this one is setting itself apart, in part thanks to what has become a really good cast.
According to The Wrap, the Veronica Mars and Forgetting Sarah Marshall star has signed up for Warner Bros. revamp of CHiPs. The latest addition to an ever expanding cast, Bell joins the like of Ant-Man's Michael Pena, The O.C.'s Adam Brody, Rosa Salazar, who shows up in Maze Runner: The Scorch Trials this weekend, and Daredevil baddie Vincent D'Onofrio, who will reportedly play the villain here as well.
On screen, Bell has been keeping busy with projects like Showtime's House of Lies, and she just finished filming the comedy The Boss alongside Melissa McCarthy and her husband, Ben Falcone, who wrote and directed the movie. Then there's that whole Frozen thing that she was a part of, you may have heard of that one, not to mention two young daughters at home.
Fans of the original series know that CHiPs revolved around a pair a California Highway Patrol officers—Erik Estrada's Frank "Ponch" Poncherello and Larry Wilcox's Jon Baker—who tool around the Southern California highways on their motorcycles, feathering their hair, and having adventures. In addition to directing, writing the script, and producing, Dax Shepard is also going to star as Jon, while Michael Pena will take the role of Ponch.
Aside from those roles, and the general overview of the movie, which sounds pretty much identical to the show, we don't know a ton about CHiPs. However, if you expect it to be one of those projects that spoof and mock the original, like 2004's Starsky & Hutch, you may be in for a surprise.
In a recent interview hyping up Ant-Man, where he plays a wacky criminal sidekick to Paul Rudd's Scott Lang, Pena compared the tone of the film more to something like Lethal Weapon. There is going to be comedy and one liners and humor, but that won't be the main focus. The film will apparently revolve around the action, characters, and plot, and have a bit more grit in its soul. From how Pena makes it sound, CHiPs is intended to be more of a throwback to movies like Lethal Weapon and 48 Hours, or maybe even Beverly Hills Cop, than a straight-ahead send up of the series.
Your Daily Blend of Entertainment News
Thank you for signing up to CinemaBlend. You will receive a verification email shortly.
There was a problem. Please refresh the page and try again.