Kristen Stewart Confirms She's Doing Focus With Ben Affleck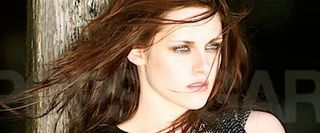 Twilight star Kristen Stewart has had a year full of ups and downs. The ups included the long-awaited and much-anticipated finale to the Twilight Saga, Breaking Dawn – Part 2, and her biggest starring role outside of the world of Bella and Edward, in the fantasy adventure Snow White and Huntsman. Of course, the downs were all related to her scandalous affair with SWATH helmer Rupert Sanders, which spurred a public outcry that hurt the 22-year-old ingénue's reputation far more than it did the married 41-year-old director's.
While other members of Twilight and SWATH's cast and crew have been scoring work elsewhere, it seems like Hollywood was waiting for the smoke to clear before giving Stewart her shot. Last month it seemed the unofficial black list of the actress—who may or may not star in the Snow White and Huntsman sequel—might be at an end, as news hit that she was being considered to star opposite Ben Affleck in the crime flick Focus. Now, Stewart herself is confirming this casting news, telling the Huffington Post:
Leave it to Stewart to keep it succinct. Focus will be writing and directing duo Glenn Ficarra and John Requa's follow-up to their hit rom-com Crazy, Stupid, Love. While originally conceived to reunite that film's scene-stealing lovebirds Ryan Gosling and Emma Stone, Focus will now star Affleck as a veteran con man who becomes romantically entangled with Stewart's sultry grifter. Hot off Argo, Affleck is sure to bring a lot of buzz with him to this comedy, which can only help Stewart. And from the sound of it, she needs it as she confesses, "[I] would love to find some micro-project before then, because April is kind of a ways away."
In the meantime, Stewart will hit the screen in Walter Salles's adaptation of the Jack Kerouac novel On the Road, which opens in limited release on December 21st.
Staff writer at CinemaBlend.
Your Daily Blend of Entertainment News
Thank you for signing up to CinemaBlend. You will receive a verification email shortly.
There was a problem. Please refresh the page and try again.