Kristen Wiig Comedy 'The Heart' Runs Into Financing Issues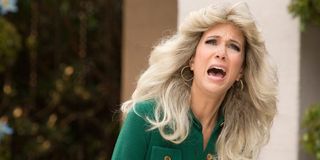 There were a lot of promising pieces in place for The Heart, an action-comedy written and directed by Nat Faxon and Jim Rash, Oscar winners for The Descendants. They had Kristen Wiig attached to star alongside Sam Rockwell, two names in a film where a broke woman has to travel cross-country with a stranger to deliver black market organs. Allison Janney was also aboard the $18.5 million-budgeted film, financed by Indian Paintbrush. Suddenly, however, the studio is having buyer's remorse.
The Wrap reports that the studio attempted to shop the project to distributors but received very little interest, suggesting that they are the only ones who don't know they have a bomb on their hand. Now they're examining their options, one of which involves dropping the budget down to a more manageable $13 million. Another, however, involves finding a different financier to take the project off their hands completely. And to think, you toil away at a screenplay for months, finding a way to put the pieces together, only for people to play hot potato in regards to who wants it less.
In the current film economy, mega-blockbusters with name recognition and no-budget genre pictures are really the types of movies studios want to make. The reason for this is marketing: for most studios, it costs even more to advertise a film than it does to produce it, provided it's not a costly tent pole. In addition to this, comedies don't always translate well to other countries, and a mid-level joke fest like this, which actually combines genres, is a tough sell to international regions weaned on action-heavy 3D imports from America. Particularly female-centric: The Heat (hey, similar title!) ultimately grossed only 30% of the $229 million global gross overseas.
Add to that the fact that some are perceiving The Heart as damaged goods. Apparently, the project came together with the likelihood of Michael Fassbender playing the Rockwell part. Apparently, Fassbender has huge worldwide recognition, probably due to Prometheus and the X-Men franchise. Rockwell, sadly, does not have that sort of exposure: he's really been relegated to indies since showing up in Iron Man 2 in 2010 and Cowboys And Aliens in 2011.
But apparently Wiig ain't so hot either. Studios would have gambled on her majorly after Bridesmaids was a big hit. But afterwards, she rejected a Bridesmaids sequel and ventured into the indie world, starring in non-performers like Girl Most Likely and the recent Hateship Friendship. Her biggest film since then was The Secret Life Of Walter Mitty, which was ultimately poorly received by critics and audiences.
Looking at these facts, it seems fairly stupid to write off Wiig as not being bankable. Studios consider low profile bombs to be bad news for some actors, disregarding the fact that if they get only tiny releases people don't even notice them. And Mitty barely acknowledged Wiig in its marketing campaign, which actually might have been a mistake. She's diversified her brand with stuff like the silly miniseries The Spoils Of Babylon but audiences generally regard her as "that lady from the bride movie" who "used to be on SNL." People really only go to the movies four or five times a year, and to them, Bridesmaids was only 15 or 20 movies ago. Bankability remains something that studios treat as concrete fact when it's actually sort of an ethereal concept reliant on marketing. Indian Paintbrush is exploring their options as of now. Kristen Wiig remains bankable.
Your Daily Blend of Entertainment News