Is Shia LaBeouf Having Real Sex In Lars Von Trier's Nymphomaniac?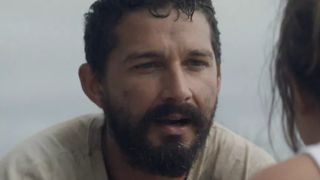 (Image credit: Roadside Attractions)
With David Cronenberg's Cosmopolis, Twilight star Robert Pattinson attempts to shed his placid pretty boy image by playing a repulsive and lecherous billionaire whose insidious exploits are sure to make audiences squirm. It's a bold choice, but as his Harry Potter co-star Daniel Radcliffe showed with his revealing performance in the Broadway production of Equus, one sometimes needs to do something radical to successfully make the leap from teen dreamboat to working adult actor. Today marks the theatrical debut of Pattinson's disturbing drama, so it's fitting that this is when news is breaking about another ingendude's daring next venture.
Earlier this month, we reported that former Disney kid Shia LaBeouf was seeking a role in controversial filmmaker Lars Von Trier's erotic drama Nymphomaniac. Now MTV's got word that LaBeouf is not only signed on, but also willing to do whatever the filmmaker asks, probably meaning nudity, possibly meaning real sex. In the interview below, LaBeouf is reluctant to reveal too much, but check out the clip to hear what Nymphomaniac could have in store:
Get More: Movie Trailers (opens in new tab), Movies Blog (opens in new tab)
LaBeouf has begun to distance himself from the cheesy blockbuster fare like Transformers and Indiana Jones and the Kingdom of the Crystal Skull with more dramatic roles in smaller films like New York, I Love You and the upcoming Lawless, which co-stars Jessica Chastain who seems worried on his behalf above. But making a Von Trier movie is a whole different deal. And though it's impossible to predict what the Danish auteur has planned for LaBeouf with this sure-to-be shocking drama, I respect LaBeouf's willingness to embrace such a daring endeavor.
For those of you thinking, there's no way actual sex will be recorded, I wouldn't count it out. Beyond Intimacy, the film referenced above, other non-porn features that show unsimulated sex include James Cameron Mitchell's Shortbus, Michael Winterbottom's 9 Songs, and von Trier's Antichrist. However, for the last, while the sex was real, the participants were stand-ins for the film's stars. So, there's also the possibility that Nymphomaniac cast, which already includes Nicole Kidman and Charlotte Gainsbourg, might employ stunt doubles as it were. Regardless, this flick seems sure to show audiences a whole new side of Shia LaBeouf.
If this all seems like to much for your tastes, you might be relieved to hear Von Trier is reportedly planning two versions of the film, one hard-core and a toned down version catered to slightly more mainstream audiences. It will still be a Von Trier movie after all.
Your Daily Blend of Entertainment News
Staff writer at CinemaBlend.