Lars Von Trier Reveals Nymphomaniac's Structure And Chapter Titles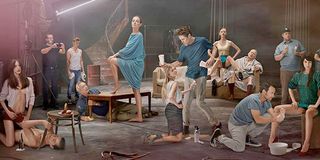 Polarizing filmmaker Lars von Trier obviously likes to make audiences anxious. Whether he's wallowing in the dark side of human nature in Dogville, reveling in the end of the world in Melancholia, or subjecting us to genital mutilation with Antichrist, the man loves to make us squirm. And with his latest, he's taking it to the next level, teasing out our curiosity and discomfort with each new report about Nymphomaniac.
First came rumors of real sex being depicted on screen. Then the announcement arose that this two-part hardcore erotic drama will be unveiled on Christmas day. And earlier this month von Trier's bizarre plan for stitching porn actor parts to his noteworthy stars for Nymphomaniac's sex scenes. Now von Trier is revealing how his story of a nymphomaniac's exploits will come together. THR reports Nymphomaniac will be released in two parts, titled Nymphomaniac Volumes I and II. Within these jointed features, the story of the titular nympho Joe (Charlotte Gainsbourg) will be told in chapters, the titles of which you can read below.
Chapter 1: The Complete Angler
Chapter Two: Jerome
Chapter 3: Mrs. H
Chapter 4: Delirium
Chapter 5: The Little Organ School
Chapter 6: The Eastern & Western Church (The Silent Duck)
Chapter 7: The Mirror
Chapter 8: The Gun
The headings above give us little clue about what von Trier has in store, and I can't help but think that's precisely the point. But we'll get some clues soon. As the film's release draws closer, Zentropa Entertainment will be unveiling teasers for each chapter that will feature a still from the film as well as a short narrative description of the chapter's plot. While von Trier is continuing in a self-imposed ban of making public statements (probably not a bad idea considering what he finds funny) the teasers will be published in select newspapers worldwide. So keep your eyes peeled.
Your Daily Blend of Entertainment News
Staff writer at CinemaBlend.
Your Daily Blend of Entertainment News
Thank you for signing up to CinemaBlend. You will receive a verification email shortly.
There was a problem. Please refresh the page and try again.