The Latest Indiana Jones 5 Hiring Has Us A Little Bit Concerned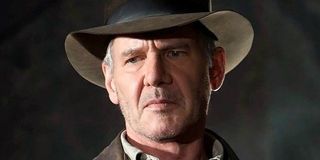 While the news that Disney has greenlit Indiana Jones 5 was hardly surprising, it was still a delight to hear that both Harrison Ford and Steven Spielberg will return to the franchise. But this excitement has been slightly tempered with the revelation that David Koepp has been hired to write the new installment to the Indy saga. For those of you that don't know, David Koepp is a long-time Steven Spielberg collaborator whose screen credits include Indiana Jones and the Kindgom of the Crystal Skull. Worried yet?
Indiana Jones and the Kingdom of the Crystal Skull was met with a rather mediocre reaction from both fans and critics alike when it was released back in 2009. However, to put all the blame for the film's failure at the feet of David Koepp, whose participation in Indiana Jones 5 was confirmed by The Hollywood Reporter, would be rather foolish. Especially since it's hard to know exactly what David Koepp wrote and didn't write in Crystal Skull's script.
While David Koepp did indeed get a lone screenwriting credit for Indiana Jones and the Kingdom of the Crystal Skull, the story was originaly created by George Lucas and Jeff Nathanson. Plus, the likes of Jeb Stuart, Jeffrey Boam, Frank Darabont, and Jeff Nathanson each wrote different iterations of the script for Crystal Skull before producers finally approved Koepp's version.
Also, while Indiana Jones and the Kingtom of the Crystal Skull might not be the pinnacle of David Koepp's career, the screenwriter's rather sensational CV is proof that he knows what he's doing when it comes to scribing a film. Especially when he's worked with Steven Spielberg, as Koepp has written Jurassic Park, The Lord World: Jurassic Park, and War Of The Worlds for the iconic filmmaker, as well as other credits that include Panic Room, Spider-Man, Carlito's Way, and Mission: Impossible.
Obviously, the man knows what he's doing, even if you view Indiana Jones and the Kingdom of the Crystal Skull as a misstep. While he'll be more aware than anyone of the failings and reasons why Crystal Skull was met with relative indifference by audiences upon its release, and he'll hopefully be hell-bent on avoiding these issues with Indiana Jones 5.
Plot details regarding Indiana Jones 5 are, unsurprisingly, currently being kept firmly under wraps. We're not even really sure how long Disney has been developing the film, or if they always knew that Harrison Ford would be back, or if another protagonist will be brought in to help the 73-year-old shoulder the burden.
Another big question is will George Lucas be involved in Indiana Jones 5? His name was withheld from Disney's announcement for the film, and his relationship with the studio is still unclear following Disney's decision not to use his ideas for what would eventually become Star Wars: The Force Awakens. The safe bet is that he won't have a hand in this either.
All of these details will be revealed over the next few months and years. For now, let's just rejoice in the news that Indiana Jones 5 will be released on July 19, 2019.
Your Daily Blend of Entertainment News