Why Harrison Ford Won't Be Recast For Indiana Jones 5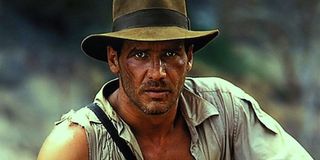 The topic of whether or not there should be more Indiana Jones movies is a divisive one for fans, but regardless of individual feelings, it does appear that Indiana Jones 5 is going to happen eventually. Even if you're not particularly stoked about this prospect, there is one thing you don't have to worry about: Indiana Jones will not be recast, and there's a very good reason.
Frank Marshall has served as a producer on every Indiana Jones film thus far, and is in a position to know about this sort of thing. There have been tons of rumors about potentially recasting one of the most iconic roles in cinema history (Chris Pratt is a name that has been kicked around quite a bit), but talking to Total Film (via Den of Geek), Marshall said that they are:
That's heartening to hear for fans that don't want to pretend that some actor other than Harrison Ford is actually Indiana Jones. This doesn't rule out that someone else could eventually assume the lead of the franchise, just that this person won't assume the identity of Indy.
If this baton-passing route is in fact the direction the franchise goes, it stands to reason that we will eventually see Indy impart his knowledge onto a next generation adventurer who picks up where the hero leaves off. That was what many though was going to happen after Indiana Jones and the Kingdom of the Crystal Skull when it turned out that Shia LaBeouf's Mutt Williams character is actually the child of Indy and Marion Ravenwood (Karen Allen).
While that option may not be completely off the table, it's also possible that perhaps one of Indy's students could catch the wild adventure bug and follow in his footsteps — he must be an inspiring professor to have lead a lecture. Perhaps Indy, and Ford, could even stick around for a time, serving as a mentor or advisor, though one who doesn't actively participate in the globetrotting and treasure hunting.
While there has been a continuous stream of Indiana Jones 5 talk — this is one of those franchises where people are always going to discuss future prospects — it doesn't look like there is any great rush. Just a few weeks ago, Steven Spielberg, hyping his latest, Bridge of Spies, indicated that he will "probably" do a fifth Indy movie with Harrison Ford, but didn't reveal anything more pressing or immediate than that.
Between Star Wars: The Force Awakens and the upcoming Blade Runner 2, directed by Denis Villenueve, Ford is going to have a rather busy schedule for a while. So, if you're hotly anticipating Indiana Jones 5, let's hope that enthusiasm is manageable, because it might be a while.
Your Daily Blend of Entertainment News