Lawrence and Foxx Resurrect Sheneneh And Wanda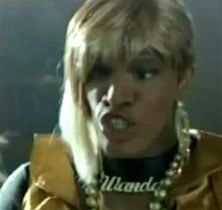 Martin Lawrence has found a new actor to play second fiddle to. He's trading in Will Smith for Jamie Foxx and teaming up with him in a Sony Screen Gems comedy called Sheneneh and Wanda. Yep the title does, as you've probably guessed, refer to the two female characters Lawrence and Foxx played on television early in their careers. Someone should probably tell them that it's not 1995.
Sheneneh is the skanky, female, occasionally present character Lawrence played on his weekly sitcom Martin. Wanda is the disgusting, sexed up female character Jamie Foxx played in a few skits on In Living Color. Now, a decade too late, they're putting their pasts together into one movie.
Blame BET for this ill-concieved misadventure. The idea springs from a parody video Lawrence and Foxx did together at the BET Awards, called Skank Robbers. In it (and in the film resulting from it) Sheneneh and Wanda team up to become bank robbers. And while I loved In Living Color and even liked Martin, they've inexplicably picked the two worst things about both shows and put them in the same film. If Jamie Foxx is ready to return to comedy he has much better characters and Martin was, by far, the funniest thing about Martin. Maybe that's why they put his name in the title.
To be fair, back in the 90s black, male comedians wearing skirts was still sort of new. Maybe these characters weren't particular funny but they were at least marginally fresh ideas. Now the concept has been beaten to death by a whole host of utterly untalented people. Heck, one of those people was Martin Lawrence. They'll need a time machine to make this idea funny again.
Watch the parody video that started it all below. Here's Wanda and Sheneneh teamed up in Skank Robbers:
Your Daily Blend of Entertainment News