The League Of Extraordinary Gentlemen Reboot Is Making A Major Change Moving Forward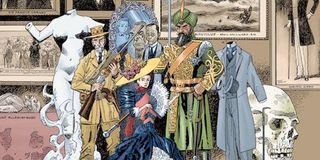 The last time The League of Extraordinary Gentlemen got its own movie, it earned mostly negative reviews. The 2003 film was so poorly received that Sean Connery hasn't been in a live-action movie since…though that probably has more to with his retirement. Regardless, this hasn't deterred Hollywood from revisiting the literary realm, as it was announced back in May that a reboot is on the way. While details have been scarce since the announcement, one of the creative minds involved just revealed a big change the new film will make: putting more focus on women.
Producer Jon Davis admitted to Collider that, while the first movie had its problems, he thinks the next retelling of the comic book series, created by Alan Moore and Kevin O'Neill, will work better because of this new approach. Davis said:
It's admirable that they're placing more spotlight on female characters, both old and possibly new, in the reboot. However, concerning the introduction of new players, it will involve taking big creative liberties with the source material, since the only major female protagonist in the original story (aside from the sex-switching Orlando) and first movie is Mina Harker, one of the characters from Bram Stoker's Dracula. Fortunately, there are a variety of famous women in literature that can be given crucial roles in the reboot, so it will be easy enough for the filmmakers to go in this direction. Like Davis said, look to Mad Max: Fury Road for an example of strong women being written well for an action movie.
The League of Extraordinary Gentlemen comic book series, which first hit shelves in 1999, followed a group of well-known literary characters, like Allan Quartermain, The Invisible Man, Captain Nemo, and Dr. Jekyll/Mr. Hyde, working together to fight threats. While the first story arc took place in Victorian England, subsequent stories took some of the main characters into the 20th century and even included/mentioned characters from other media. Although the 2003 film maintained the basic premise of these characters joining forces in the late 19th century, there were significant deviations from the comic book, to the point that it almost felt like an entirely different beast.
A League of Extraordinary Gentlemen TV series was being developed for Fox several years ago, but no significant progress was made on that project. Now it appears they're destined instead for another cinematic adventure, and this time there will be more of a female presence if all goes according to plan.
Connoisseur of Marvel, DC, Star Wars, John Wick, MonsterVerse and Doctor Who lore. He's aware he looks like Harry Potter and Clark Kent.
Your Daily Blend of Entertainment News
Thank you for signing up to CinemaBlend. You will receive a verification email shortly.
There was a problem. Please refresh the page and try again.