Legendary Rock Club CBGB Gets A Biopic Of Sorts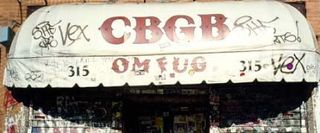 Every now and then I walk past the John Varvatos store on the Bowery in Manhattan and can't help but think about the place I never went but used to see there: CBGB, the legendary rock club that was the starting point for performers like Patti Smith and The Talking Heads. By the time I moved to New York the grimy, tiny club was past its prime of cultural relevance, but when it lost its lease the next year and was forced to closed even I, a very new New Yorker, recognized that an era had ended.
Now that era will be memorialized on film. According to THR the daughter of CBGB's owner, Hilly Kristal, has teamed up with three producers to make a film tentatively titled CBGB. Lisa Kristal Burgman has probably chosen her producers well-- Brad Rosenberg, Randall Miller and Jody Savin are already at work on a biopic of Beach Boys founding member Dennis Wilson, and are hoping to keep the musical filmmaking going by segueing directly into CBGB later this year.
The film will focus on a pretty limited period of time, 1974 to 1976, when The Ramones, Television, The Talking Heads, Smith and others were all getting their start. The movie will likely be a pretty flattering portrait of Kristal, who's described as a "surrogate parent" to many of the groups who played there frequently, but it probably won't go easy on the drugs and darker side of rock and roll life either. Burgman feels pretty confident she can mine the family connections to many of these artists to secure music rights, which is crucial for getting a film like this to work.
While we wait to see this film come together, if you're curious about CBGB and the music era that surrounded it, I couldn't recommend any more highly Patti Smith's memoir Just Kids, which is less about the rock and roll scene than her relationship with artist Robert Mapplethorpe, but is a fantastic read nonetheless. Do yourself the favor and read it; you can buy it here (opens in new tab) if you're so inclined.
Staff Writer at CinemaBlend
Your Daily Blend of Entertainment News
Thank you for signing up to CinemaBlend. You will receive a verification email shortly.
There was a problem. Please refresh the page and try again.