Les Miserables Success Could Signal Cats Movie Musical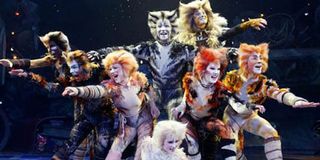 Between the spectacular Warner Bros flop Rock of Ages and the smash hit of Universal's Les Miserables, 2012 had some major highs and lows when it came to movie musicals. But Broadway Andrew Lloyd Webber says the success of the latter has brought back to life Universal's interest in the long languishing Cats movie.
In an interview with The Daily Mail, the composer behind such Broadway landmarks as The Phantom of the Opera, Evita, and of course Cats confessed:
Buying the Cats property was a no brainer for Universal. The song and dance packed show based on T.S. Eliot's "Old Possum's Book of Practical Cats" has been delighting audiences across the U.S. for 30 years in various touring productions, and with more than 7,400 performances on Broadway holds the record of the second-longest running show in New York's history. Plus, it spawned the hit single "Memory." Of course, the translation from stage show to movie musical is a bit more complicated.
Theater audiences tend to give over to suspension of disbelief on a grander scale than movie audiences are typically asked too. A black box is allowed to serve as a house or castle or field as required. A single pinpoint of light is recognized as Tinkerbell. And people dressed in speckled and striped leotards are accepted as cats who can sing and dance. Generally, when filmmakers translate a play to a movie, flights of imagination like these are abandoned for something more concrete. Proof is set in a real house, and branched out into a real college and shopping mall. Peter Pan is given a pesky pixie to interact with. And the 19th century France is meticulously manufactured, then packed with movie stars, not Broadway icons.
Webber doesn't offer any hints on how Universal might attempt to adapt Cats from one medium to the other. But he did add, "You never know in life. We never knew whether the public was going to love Cats until the moment we saw a cat go on stage. It could have been the most terrible moment of bathos in musical theatre. I remember sitting backstage waiting for the response. Somehow we got away with it."
This poll is no longer available.
Your Daily Blend of Entertainment News
Staff writer at CinemaBlend.