Linklater Sends Kat Dennings To Stalk Barack Obama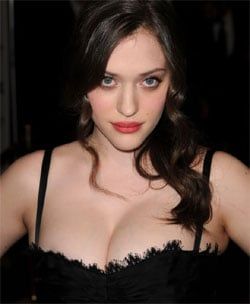 Richard Linklater does not work enough at all. As one of a rare breed of directors who are able to make both commercially friendly and art house indie flicks, Linklater can please just about anybody. In fact, Before Sunset and Before Sunrise both hold spots in my personal all time top 5. His latest film, Me and Orson Welles, has had a hard time finding a studio buyer despite including teen heartthrob Zac Efron (swoon).
Even so, Linklater has already found his next project. According to Variety, Richard Linklater has signed on to direct Liars, a movie penned by newcomer Emma Forrest. Apparently the movie will follow a girl on her way to Barack Obama's historical inauguration. On the way, according to Variety she "retrieves lost items from her ex-boyfriends." I'm not exactly sure what that means, but it sounds interesting. Kat Dennings is signed on to star as the woman's friend.
What I'm really looking forward to though, is Linklater's experimental, 12-year marathon project. Last year he talked about a possible 12-year movie from following life of a young boy as he grows up, all using the same actor. It's kind of like The Truman Show, only less evil. Now that's something to look out for. I'm hoping he's not lying about that too.
Your Daily Blend of Entertainment News
Thank you for signing up to CinemaBlend. You will receive a verification email shortly.
There was a problem. Please refresh the page and try again.