Little League Bank Robbers Make Movie Magic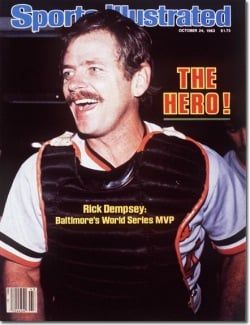 Adam Sandler's Happy Madison production company is going to tell a story about Orioles baseball player Rick Dempsey-- but it won't have anything to do with Dempsey's World Series experience, or his adult life, for that matter. The story pitched by Johnathon Schaech, Josh Wolf and Richard Chizmar comes from Dempsey's childhood, in which his Little League coach turned out to be a bank robber.
Schaech, who you might remember as the egotistical frontman of The Wonders in That Thing You Do!, told Variety ""Our pitch was, it's Catch Me if You Can meets Bad News Bears with a touch of Bad Santa. " And there will be a World Series in the film after all! The coach, John Jennings, led Dempsey's team to the Little League World Championship in 1963, before doing jail time for his life of crime.
There's so many random names attached to this project that it's hard to keep track of exactly what's going on. As of yet Sandler is just producing, though, and Schaech is just writing, which might mean that Billy Bob Thornton is getting a call right now to complete his bad-role-model trifecta.
Your Daily Blend of Entertainment News
Staff Writer at CinemaBlend