The Logan's Run Remake Just Took A Huge Step Forward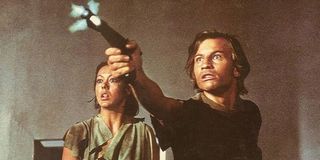 A remake of the dystopian 1976 science fiction film Logan's Run has been in the works for what feels like damn near forever. Over the years numerous directors and stars have been linked to the project, which seemed like it was never going to happen. Well now it has taken a big step forward, though who knows if this is the one we'll finally see in theaters.
According to The Hollywood Reporter, Warner Bros., the studio that has been attempting to mount a remake of Logan's Run since 2000, has hired Simon Kinberg to write the story treatment for the latest attack. He will also produce with Joel Silver, though a writer to be hired down the road will ultimately handle the full script.
Kinberg is a writer and producer behind a ton of superhero movies, including the upcoming Fantastic Four, X-Men: Apocalypse, and Deadpool. And just for good measure he dabbles in the expanding Star Wars universe as well with the Anthology films and the animated series Star Wars Rebels. Basically, if anyone has to handle a Logan's Run remake, it's in solid hands with Kinberg.
[[ br. a attached been door has have high-profile highest kind number of order. point project revolving seriously the this to up writers ]] Ex Machina), The Legend of Conan's Will Beall, and Mission: Impossible—Rogue Nation writer/director Christopher McQuarrie. Bryan Singer was once on board to direct, and most recently Drive helmer Nicolas Winding Refn was going to steer the ship with Ryan Gosling on the hook to star. That was as far back as 2010, and though they were both linked for a long time, it never ultimately moved forward and they moved on to movies that will actually get made. Kinberg certainly has the clout to get a project like this rolling, but to play devil's advocate, so did everyone else who has tried to get this party started.
A bona fide cult classic, the 1976 movie Logan's Run is based on the 1967 novel by William F. Nolan. Set in an idyllic future society, everything is hunky dory and hedonistic, but the drawback is that your life ends at 30. When a little red light goes off in your hand, you must go through "Carousel," where you are vaporized and reborn. If you run, as some do, the Sandmen come after you. Logan 5 is one of these Sandmen, but when he is forced to become one of the Runners, he discovers that things are not what they appear to be, and the situation is, in truth, all kinds of messed up.
[[ br. a attached been door has have high-profile highest kind number of order. point project revolving seriously the this to up writers ]]
Given the current landscape of teen dystopias like The Hunger Games, The Maze Runner, and Divergent, all of which are heavily influenced by Logan's Run, it makes sense to try to bring this back to the big screen. It's totally marketable, and with multiple novels in the series, it is a ready-made franchise, which is what the studios all want.
There's no timeline for this new Logan's Run, but maybe, just maybe, this will be the Runner that makes it out alive and finds Sanctuary.
Your Daily Blend of Entertainment News