Nicolas Winding Refn Confirms His Logan's Run Remake Is Dead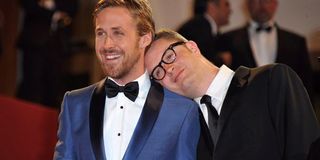 In retrospect, it seems crazy that we ever believed in the Logan's Run remake with Nicolas Winding Refn directing and Ryan Gosling starring. Yes, the two were definitely attached, back when Drive still hadn't opened and seemed more like a heist thriller than the mood piece it really was, and they remained attached even as they moved on to make Only God Forgives instead. Gosling finally dropped the project last fall and though Refn never made his own announcement, he's finally confirmed that, yes, the project is totally dead (though word that another screenwriter has signed on may mean it's still living on without Refn).
Answering Twitchfilm's question about the state of the remake, Refn said "It's dead as dead can be." He continued to explain that the quality of the original film kept getting in his way:
But if you want to see Refn tackle a sci-fi classic, you might not have to wait long. Development on his Barbarella TV series, an adaptation of the iconic 1968 sci-fi movie starring Jane Fonda. A movie remake had kicked around for a long time in the hands of Robert Rodriguez, but Refn seems to be the closest to actually making it happen; he told Twitch "I'm really concentrating on my TV show, to see if I can get that off the ground." Of course, that doesn't mean it's actually happening any time soon-- but at least there's commitment there that clearly wasn't in place for Logan.
Your Daily Blend of Entertainment News
Staff Writer at CinemaBlend