The Logan's Run Remake May Be Making A Major Change To The Story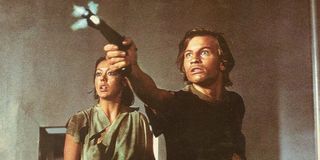 It seems like only yesterday that Ryan Gosling was attached to the remake of Logan's Run. The plan was to re-team with his Drive and Only God Forgives director Nicholas Winding Refn for the sci-fi dystopian thriller, but both would ultimately drop out. Warner Bros. has been trying to get this off the ground for quite some time now, and a new report claims that the studio is completely retooling the script to make it work better for a modern audience. And that means they're trying to work in a female lead.
The news comes from the Tracking Board, which doesn't always have a great track record with scoops. (The site claimed a while back that Tina Fey was working on Hocus Pocus 2, which was half right, and that Ryan Gosling was going to be the Beast in Disney's live-action Beauty and the Beast, a part that went to Dan Stevens.) So take this with a grain of salt for the moment.
According to the report, Warner Bros. wants to replace the Logan character in the Logan's Run remake with a female lead. Since the project has been in development for decades with no strong signs of lifting off the ground, something of this magnitude could work out in their favor. The story does have elements of classic young-adult novel fair, such as The Hunger Games, The Maze Runner and Divergent. In the original novel, published in 1967 by William F. Nolan and George Clayton Johnson, Logan's Run imagined a futuristic society centered around a computer in which humanity's resources were dwindling. In order to preserve as much of the human race as possible while maintaining food supplies, people would be killed off after a certain age through a method called Carrousel. They would be vaporized with the promise of someday being "renewed." In the book, the cut-off is 21. In the 1976 movie adaptation, starring Michael York, it was 30. Logan was the man who enforced the law, but he too eventually became the hunted. Here's the Carrousel scene from the film.
There will, of course, be those folks who claim a move such as this will "ruin their childhood." Remember the reaction Paul Feig received for the female-led Ghostbusters remake? However, if this report turns out to be true, a version of Logan's Run with a female lead could prove to be a smart movie. Warner Bros. could easily peg this towards the younger crowds already eating up heroines like Katniss and Tris.
Your Daily Blend of Entertainment News
Thank you for signing up to CinemaBlend. You will receive a verification email shortly.
There was a problem. Please refresh the page and try again.