Lord Of The Rings Cinematographer Andrew Lesnie Dies Of A Heart Attack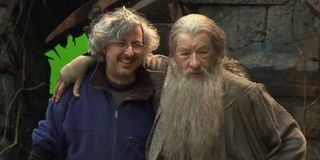 Andrew Lesnie, the Oscar-winning cinematography behind the Lord of the Rings trilogy and a longtime collaborator of director Peter Jackson, died Monday. A native of Sydney, Australia, Lesnie was said to have died from a heart attack. He was 59.
A spokesman for the Australian Cinematographers Society, which inducted Lesnie into their Hall of Fame back in 2002, released a brief statement saying they've been "advised of the sudden death of Andrew." Lesnie's family is said to make a statement, potentially later today.
Hollywood is devastated by the news. According to News.com.au, members of WETA, Jackson's special effects company, are said to be in mourning, while some of Lesnie's co-workers have responded on Twitter. Russell Crowe, who worked with Lesnie on his directorial debut, The Water Diviner, called Lesnie "the master of the light," while Fantastic Four star Jamie Bell, who worked with him on King Kong, called the cinematographer "a treat to work with."
Lesnie was known for his artistic sensibilities, seamlessly merging it with tech. He got his start working on low-budget shorts, music videos, documentaries and commercials, and he expanded to the children's TV series Wonder World in 1979. He worked steadily in the years that followed, though he gained notoriety for his relationship with director George Miller. Lesnie worked with him since the '80s as a cameraman on Mad Max: Road Warrior, and they re-teamed for Babe and the sequel, subtitled Pig in the City.
However, his relationship with Peter Jackson led to his Oscar win. Though Jackson hasn't yet released an official statement on Lesnie's passing, the filmmaker said in a 2004 interview with DigitalProducer.com that he decided to hire him for The Lord of the Rings because of Babe.
UPDATE: Jackson released an official statement on his Facebook page regarding Lesnie's passing. He wrote, in part,
In 2002, Lesnie won Best Cinematography at the Oscars for his work on The Fellowship of the Ring. Here's an example of some of his work.
He would continue his work for Jackson with all three of The Lord of the Rings films, King Kong and the Hobbit trilogy. Some of his other notable achievements include I Am Legend with Will Smith, M. Night Shyamalan's The Last Airbender and Rise of the Planet of the Apes with his Hobbit and LOTR buddy, Andy Serkis.
Your Daily Blend of Entertainment News
Your Daily Blend of Entertainment News
Thank you for signing up to CinemaBlend. You will receive a verification email shortly.
There was a problem. Please refresh the page and try again.