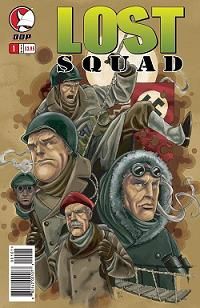 It's been almost a year since we first reported the comic book Lost Squad was being adapted for a movie. In that year, not much has happened with the project, making it look as if the Lost Squad was… well, lost. That changes this week as the picture gets its writer and director, as announced by Rogue Pictures.
Adapting Chris Kirby's comic book for a screen adventure is Stephen St. Leger, while direction will come from James Mather. The Irish duo (known as Saint and Mather), previously have done a lot of commercial work – literally, as in writing and directing commercials. Other than that, their only listed credit on IMDb is Prey Alone a 15-minute short. This is the first feature film for the team.
Lost Squad is about a specialist team during World War II who is charged with assassinating Hitler. Saint and Mather are not planning on taking a realistic approach to the film like Band of Brothers, however. According to Variety, the plan is to hyperstylize the movie like this year's 300. Forgive me if I don't act too surprised. After the success of 300 and Sin City, it'll be hard to find comic book movies that don't overstylize their movies like that. The problem is, that only works if the style of the comic book calls for it, like Frank Miller's work. The visual imagery of Lost Squad is a different entity, and yet the stylized approach is what is being announced.
If I didn't know better, I'd think that Lost Squad actually was lost until 300 showed up. Now it looks like it's going to become a copycat project, only set in World War II instead of Thermopylae.
Your Daily Blend of Entertainment News