Lost's Tania Raymonde Joins Texas Chainsaw Massacre 3D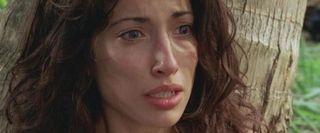 For most normal people, the news that a pretty up-and-coming actress has been cast in a horror movie is so commonplace that it's barely even news at all. But for those of us who know the numerological meaning of the numbers and the location of the Dharma hatches and why polar bears can live in the jungle, the casting of Tania Raymonde in Texas Chainsaw Massacre 3D means just one thing: Alex is back! That is, Raymonde-- who played Ben's unerringly gorgeous daughter Alex on Lost-- is joining the cast of the slasher movie, marking one of her most significant film roles since the show went off the air last year.
She'll play the best friend to Alexandra Daddario, the White Collar and Percy Jackson & The Olympians actress who is the main character of the horror reboot. The two girls travel to Texas to pick up the main girl's inheritance, and either she's actually inherited her "deranged cousin Leatherface," as the syntax in the Deadline piece suggests, or Leatherface is getting in the way of her collecting her cash and getting the hell out of there. Either way you can probably bet this won't end well for the two girls, though I guess the law of horror movies says one of them has to survive. Usually the sassy best friend doesn't stand a chance, but come on! Alex was kidnapped from her mother, raised by a mysterious group of Others and survived an attack from Keamy and company (well, temporarily) even when her boyfriend Carl bit it. She's got a fighting spirit and I'm counting on her to win.
Directed by John Luessenhop, who last made the bank heist thriller Takers, Texas Chainsaw Massacre 3D will be released by Lionsgate, presumably at some point in the dregs of next summer. Maybe by then 3D will have petered out to the point that we only associated it with salacious horror movies-- the true home of 3D, if you ask me-- but that's probably a little much to ask for. Still, that bloody chainsaw in 3D is probably going to be something to see.
Your Daily Blend of Entertainment News
Staff Writer at CinemaBlend