Luke Evans Has Officially Left The Crow Reboot, Get The Details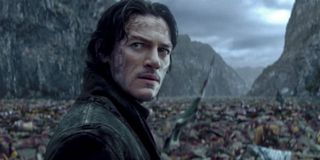 Last month, rumors flew that Dracula Untold star Luke Evans may be dropping out of The Crow reboot. Well, the film has had yet another setback, as Evan's publicist has confirmed that the actor has officially parted ways with the reboot to pursue other projects.
The news first broke by The Wrap, when the star exited the project officially just yesterday. Evans was bound to play Eric Draven, a rock musician who is brought back to life in order to avenge his murder and the death of his fiancee. But with seemingly endless production delays, it was only natural that Evans probably got sick of waiting around, and moved on. So now, Relativity and the director of the reboot, Corin Hardy are searching for a new star. The film originally set Tom Hiddleston as the title role, but he also ultimately passed on the project. There were rumors that even The Walking Dead star, Norman Reedus may be cast, but again that was never revisited.
It's a major disappointment, more so for the film itself finding fruition than even the stars dropping out. The original 1994 cult-classic film starred Brandon Lee in his final film appearance. It is based off of a 1980s comic book series by James O'Barr. The film was dedicated to Lee and his fiancee after Lee was accidentally killed on set during the filming process by a defective blank. Despite all of the major setbacks after the accident, The Crow was incredibly well-received with reviews praising its unique visual style and premise, resulting in a strong cult-following.
This time last year, when Luke Evans was attached, and excited for the reboot, he promised that Lee's beloved film would go unsullied, and would be respected. The reboot is supposedly going down a different path, and instead of being directly inspired by the 1994 classic, it would be more connected to the comic book series. The comic book creator, James O'Barr was even part of the development process and brought in as a consultant. From all of this and more, we were getting very excited about the prospect of the reboot, but it just continually had setbacks, with directors and actors leaving the project left and right.
The Crow reboot, which was supposed to come out some time this year, is expected to only start production this spring. That is if they find a new lead in time. The director of the film, Corin Hardy has teased fans along, stating that he plans for the film to be incredibly emotional and brutal. Hardy is scheduled to start meeting with actors after his latest film, The Hallow debuts at Sundance, so until then, we'll just have to wait and see what comes of this slow-going project.
Your Daily Blend of Entertainment News