The Crow Remake At Least Has Its Creator Backing It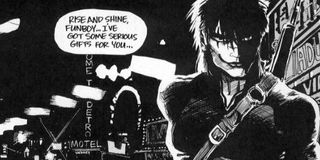 No matter how much we tear at our collective hair and gnash our teeth, it seems a reboot of The Crow is coming. Relativity Media settled with The Weinstein Company over the rights. The studio at long last nailed down a leading man in Fast & Furious 6's Luke Evans, and the remake is currently scheduled to kick into production early next year. But fans of the original franchise might find some solace in Relativity's latest addition to their crew.
Variety reports Relativity has brought in James O'Barr, who created the graphic novel from which the franchise is inspired, to play consultant on this production. O'Barr will begin stumping for this new Crow at San Diego Comic Con in two weeks. There, he and The Crow reboot's director F. Javier Gutierrez will make an appearance to appeal to fans. But as many movies will be jostling for attention then, O'Barr makes his first foray into PR with the following statement:
Based on the past four Crow films, we can infer the basic outline of the remake's plot. A very handsome moody man is killed, probably while defending his lover who is also killed, and is resurrected by a mystical crow so he might wreak bloody vengeance. The first film was a success at the box office ($144 million worldwide) and with critics. Because of The Crow's brutality and romance, it became a touchstone for a generation, made all the more impactful for the tragedy behind-the-scenes that made it Brandon Lee's final film role.
But it's hard to pretend anymore that a reboot would somehow lessen the legacy of the first film, as its sequels got progressively worse. Something O'Barr himself seems to cop to by purposely omitting them from his statement. Do you realize the fourth one, Wicked Prayer, starred Tara Reid and Edward Furlong? It ran for just a week in theaters. Maybe you missed that one. Here's the trailer:
O'Barr's basic story allows for many different men (or women) to take on the Crow's powers in their pursuit of vigilante justice. So, there could be a worthwhile story told with this remake penned by Warrior co-writer Cliff Dorfman. I don't anticipate this Crow will be better than the first movie, but Relativity has been fighting hard to get this one made. For the lead, they've considered stars like Mark Wahlberg, Bradley Cooper, Channing Tatum, James McAvoy, Tom Hiddleston, and Alexander Skarsgard. And with O'Barr on board, there will be someone there keeping the project true to the roots that snagged our fascination back in 1994. After all, it can't rain all the time.
Your Daily Blend of Entertainment News
Staff writer at CinemaBlend.