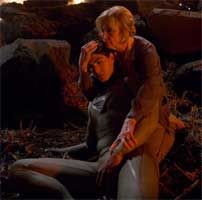 In promoting their upcoming mega-movie Superman Returns, Warner Brothers has shown us Superman, Clark Kent, Lex Luthor, Lois Lane, and tons of other characters from the film. But we haven't seen a lot of Ma Kent, especially not with Clark. At least I think it's Ma Kent. It's either Ma Kent, or the Fortress of Solitude's cleaning lady. Ma Kent makes more sense.
The image to your right is just one of three more brand new images from Superman Returns. Those also contain some as of yet unseen things, including a shot of Parker Posey in her natural state… holding a fluffy dog.
To see those new Superman Returns images, including the one to your right, in glorious high-resolution; just click over to our Superman Returns image gallery.