Mad Max Fury Road Is Turning Into The Man Who Killed Don Quixote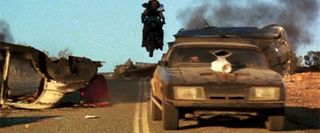 Mad Max mastermind George Miller has been promising to make a new installment in his hard-driving franchise since somewhere around 2006. He even has all the cars ready for it. So far nothing has actually come of it. Every time it looks like the project, dubbed Fury Road, is about to move forward something stalls it. This time Miller's blaming the weather.
Even though he has a cast, with Tom Hardy and Charlize Theron locked in to star, Miller tells the Telegraph he's working on Happy Feet 2 instead. Fury Road hasn't actually fallen through yet, if it did it certainly wouldn't be the first time, but it's back to being on hold indefinitely. This confirms previous rumors of infinite delays coming out of Australia, only this time it comes straight from Miller himself. He says, "We will restart pre-production later this year and begin early next year -- weather permitting."
None of this sounds very hopeful. What kind of weather is he waiting for, exactly? Australia has had earthquakes in the past year and there were some incredibly devastating floods, but those don't go on forever. Actually I'm sure a major, big budget film production might be a big help to the economy of a country struggling with natural disasters. Australians: Isn't George just going to go out and drive around in some cars? What kind of ridiculously specific weather is he waiting for? Or is there another issue he simply isn't mentioning?
Apparently there was a week long deluge that stopped him cold the last time he'd planned to start filming. Miller explains, "The week we were to start, it rained the heaviest it had in 10 years. I'll never forget the first day -- we were holed up in a big sort of shed watching the rain. We couldn't shoot. If you want the rain to come, just send a film crew there." Someone should probably show George Miller Lost in La Mancha.
Your Daily Blend of Entertainment News