Madame Tussaud, The Woman Behind The Wax Museum, Gets A Biopic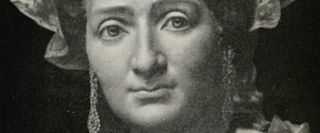 I've walked past the Madame Tussaud's Wax Museum in Times Square countless times, generally on my way to a movie, irritated with the tourists, and cursing under my breath at the people posing with wax Whoopi Goldberg on the sidewalk. For all of that grumbling I never even knew that Madame Tussaud was a real person, or that her life story is far more interesting than that of probably any tourists who's visited one of her many museums worldwide.
So now maybe I'll finally have the chance to stop resenting Madame Tussaud and know a single thing about her-- and I'm sure I'm not the only person who knows nothing about her actual life. According to Variety, producer Stephane Sperry is moving forward with Madame T, the script by Alessandro Camon and Bruno Ledoux about the Swiss wax sculptor, who studied art in Paris only to barely survive the French Revolution. Not only did she work alongside the revolutionaries leading the war, but she was enlisted to make "death masks" of some of the most notable figures, including Louis XIV and Marie Antoinette. She came so close to execution herself that her head was shaved in preparation for the guillotine.
So, yeah, a lot more than just an eerily lifelike Johnny Depp greeting tourists in Times Square. Camon, one of the co-screenwriters, got an Oscar nomination for his work on Oren Moverman's The Messenger, and in a complete change of pace also wrote the upcoming Sylvester Stallone movie Headshot, so we know he can handle a lot of different tones. Sperry is still looking for directors to take on the project, so it might be a while before we see it, but keep an eye out for an entirely different look at a historical figure I, at least, never expected to learn anything about at all.
Staff Writer at CinemaBlend
Your Daily Blend of Entertainment News
Thank you for signing up to CinemaBlend. You will receive a verification email shortly.
There was a problem. Please refresh the page and try again.