Magic City Is Getting A Movie And Adding These A-Listers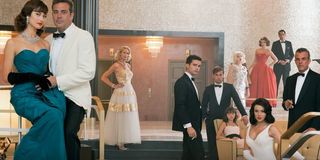 Remember that series Magic City? Don't sweat it too much if you don't because few do. It premiered on Starz back in 2012 and only ran for two seasons before getting cancelled. Now the ritzy mob drama is about to be revived for the big screen and you won't believe who's being lined up for lead roles.
The film, which will be penned and directed by original creator Mitch Glazer, will bring back many of the series' actors -- most notably Jeffrey Dean Morgan, Danny Huston, Olga Kurylenko, and Kelly Lynch -- but in a dream casting twist will also add two new characters played by Bill Murray and Bruce Willis. I already feel the Moonrise Kingdom magic brewing.
For all intents, this isn't an exact rehashing of the original TV show, but more of a story extension spiced with Bill Murray's secret sauce. Now set in 1962, the Magic City film will find Miami at the center of several different battles, like the USA's conflict with Cuba and President John F Kennedy's affair with a Miami Mob boss's mistress. The press release also touts that Ike Evans (Morgan) will "battle them all to save his family, and survive in the Magic City."
These are elements that were lingering in the original series to begin with, so the latest pitch just seems a somewhat logical step, especially considering the Starz ending left the futures of some characters rather ambiguous. Such is the nature of the TV cancellation beast.
After last year's impromptu axing, Glazer told Entertainment Weekly that he did in fact have conclusions in mind for his characters, but refused to elaborate as he attempted to shop the series to other networks. Their loss could now be the movie industry's gain as one of the film's producer, Bill Block, CEO of QED International, tells Deadline that "Mitch's sensational script and this outstanding cast, it will translate beautifully to the big screen."
On the flip side, here we have yet another TV series that's being blown up on the big screen, à la 21 Jump Street, Serenity and Veronica Mars. Surely another sign that Hollywood is either becoming more risk averse or simply running out of ideas?
As for why Bill Murray is coming within a mile of the production -- his methodology for picking films is anyone's guess -- it may be because he and Mitch Glazer's are long-time pals. Not only did Glazer write Scrooged and directed Passion Play, but he's also one of the creative minds behind the upcoming Rock The Kasbah, which again stars both Murray and Bruce Willis. Does that maybe give you some hope that Magic City could be the best thing we've had before?
Your Daily Blend of Entertainment News
Thank you for signing up to CinemaBlend. You will receive a verification email shortly.
There was a problem. Please refresh the page and try again.