The Main Difference Between George Lucas And J.J. Abrams, According To C-3PO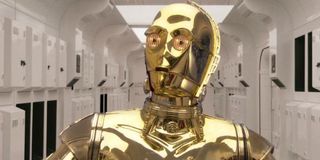 Comparisons between J.J. Abrams and George Lucas were always going to appear at some point. Lucas' most recent efforts overseeing Star Wars Episodes 1-3 were widely lambasted, and Abrams is seen as the great hope for rejuvenating the franchise. Anthony Daniels, who has played C-3PO since the very first Star Wars film, has now been explaining the differences between the filmmakers, insisting that Abrams is much more collaborative than Lucas.
Anthony Daniels made this admission during his chat with The Guardian, explaining that J.J. Abrams was more willing to listen to his ideas regarding C-3PO and then incorporate them into the film. Speaking about the differences between Lucas and Abrams, Daniels declared:
Some might say that's tough-talk from Daniels, who, from the sound of things, much preferred working with Abrams to his time with the American Graffiti director. However, we must remember that George Lucas was the one who created these characters, and he clearly felt an ownership to them that meant he believed what he was doing with them was for the best.
This is one of the main reasons why it was the right time to replace George Lucas with a different director, as this has now enabled Star Wars to have a passionate, fresh set of eyes oversee it and take the film into new, original territories that Lucas probably never envisioned. But while he took Star Wars to these new pastures, J.J Abrams also made sure not to be disconnected from the franchise's illustrious past. Daniels added that Abrams was "too respectful" to even suggest changing C-3PO's character in any way shape or form.
This isn't the first time that it's been revealed that George Lucas wasn't that big a fan of being a director. In fact, John Milius explained in the seminal 2003 documentary Easy Riders, Raging Bulls:
Anthony Daniels did attest that there was one issue that he and J.J. Abrams ended up having more heated discussions about. However, he refused to even tease what it was over.
We've now not got too much longer to wait to find out what Daniels and Abrams debated, as Star Wars: The Force Awakens is going to be the greatest early Christmas present that the world has ever received. Star Wars: The Force Awakens will be released on December 18, and we can expect it to have broken several box office records before the New Year.
Your Daily Blend of Entertainment News